Samsung's market share saw it's biggest ever drop in history
Fariha Khan

November 18, 2016

409
As we all know, Samsung has had a tough year. The September 2 recall and cancellation of the Note 7 created much trouble for it. The company's Q3 market share fall year-on-year from 23.6% to 19.2%, which is its biggest drop ever. Its smartphone sales overall declined 14.2 percent year over year in the third quarter of 2016. The firm's prior worst performance for smartphone sales was a 12.3 percent drop (Q4 2014).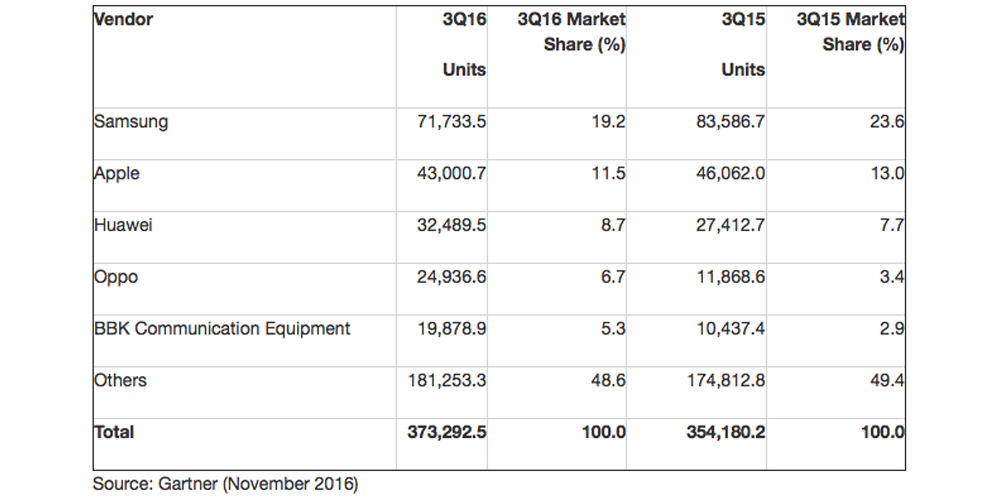 The harm to Samsung's brand will make it tougher for the firm to improve its smartphone sales in near future. It is essential for the company that the Galaxy S8 releases positively, gaining the trust of the customers and associates back in the brand.
However, we came to know about some good news for Samsung. There had been buzz that Apple might get about 5-7M sales from Samsung, implying that customers that were lost to Samsung forever when they changed platform. However, it seems this wasn't the issue. Apple lost market share as during the same period.
Interestingly, it was Oppo and BKK (Chinese companies) that were the real winners. They came close to doubling their share of the global smartphone market.
China led the growth in the smartphone arena in Q3 of 2016 while the sales of smartphones in China grew by 12.4 percent. The retailers who most explored the sales opportunities were Oppo and BBK. 81% of its smartphone sales came from China and BBK accounted for 89% of smartphones sales in China. They grew strongly in Thailand, India, Russia, Indonesia and Malaysia.
Samsung is struggling to retain loyalty in the brand. It indicated that some Note 7 buyers will be able to purchase a Note 8 at half-price. Now let us see what else the company would go to regain its lost repute and bend the broken bond with some of its customers.
---