Google's Project Loon kept one balloon floating in the air for 98 days!
Fariha Khan

September 27, 2016

493
Pixel, Nexus and Andromeda, Google's news is not just limited to these few developments. If we only make them the focus of attention, we would rather be limiting the scope of Google and ignoring other essential things that the company is engaged in. Google's Project Loon is one amazing project that has been making steady progress recently.
According to a post on Loon's official Google Plus page, the team is working on navigation technology. It witnessed noteworthy enhancements that eventually enabled the balloons to stay up in the air for a much longer time than ever before.
Read also: Google's Pixel and Pixel XL have weird and fabulous color names

Due to the technical upgrades, Projectloon of Google kept one balloon floated around South American airspace for as many as 98 days! Like everyone, you must also be wondering how they did it. To cut the long story short, that new software algorithms picked up the currents and establish the correct altitude with the help of intelligent ways.
In order to test the latest updates to its navigation technology, Google set one balloon the task of drifting to Peru from Puerto Rico and then staying in the area for as long as it could. The balloon was able to spend most of its time in the stratosphere 20km over the regions surrounding Chimbote, Peru, after 12 days.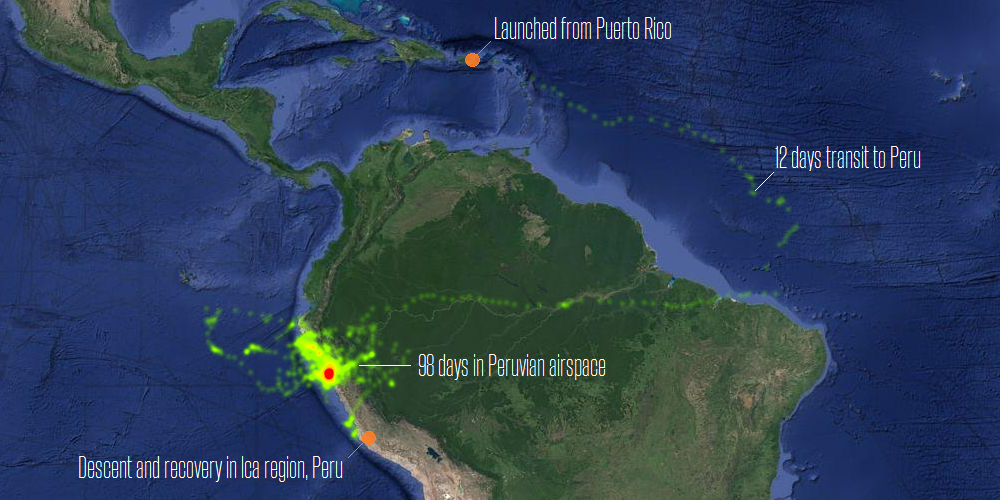 Source: 9to5Google
According to the loom team, "In total, the balloon managed to spend 14 weeks in Peruvian airspace, which required making nearly 20,000 separate altitude adjustments during its flight".
When the balloon could not find the wind patterns, it checked its other choice such as drifting out over the Pacific Ocean and making the most of other easterly winds that would drift it back into position consequently.
This is indeed something incredible. Let us hope to see more amazing achievements from Project Loon in future. Way to go Google!
---