Acer Swift 3 review
Fariha Khan

February 24, 2017

705
The Acer Swift 3 is one of the cheapest "all-metal" laptops you can find out there. It is even a step up from the wonderful Acer S 13 with a plastic lid.
A 14in laptop, is a newbie that is worth checking out. Owing to its screen size it is suitable for normal users, not those who are looking for something extravagant like a MacBook Pro or HP Spectre. The Acer's screen is an inch larger when compared to those 13in machines. The laptop is thin and light, thanks to the falling cost of making a laptop a breeze.
Read Also: Lenovo's new Yoga A12 Android tablet is just begging to be a Chromebook
Design
Acer Swift 3 has a beautiful design. The underside, the keyboard surround, the lid and even the silvery parts of the area around the screen are all made of aluminum. The machine looks clean and there are no flashy textures or add-ons to make it promptly recognizable, and the black hinge detracts from the all-metal look a bit. However, it is still enticing. The laptop remains rigid even if you hold it by one edge and the keyboard is extraordinarily stiff. While the underside seam isn't as perfect as Apple laptops, there are no worrying gaps. Acer has a gold version of the Swift 3 and the two-tone black/gold look may work even better in that finish.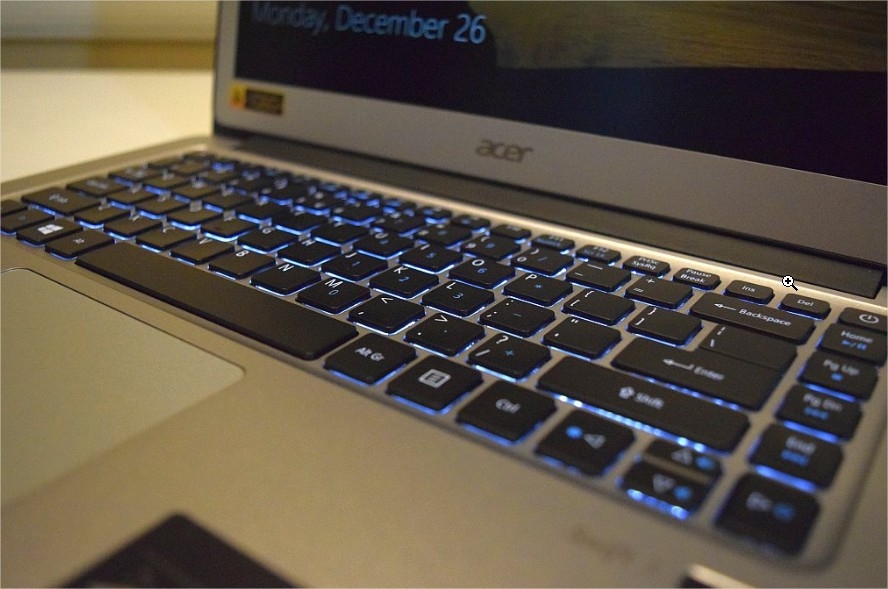 The Acer Swift 3 is just reasonably thin and light weighing in at 1.5kg, so it means that you can carry it around with ease in a bag. In the same way, 18mm thickness is slim but not ultra-slim according to existing standards, though Acer claims it to be an Ultrabook. This is a sign that shows that it is not a high end laptop while the other sign is that it has the aluminum finish which makes it shinier and coarser than a MacBook. But these things are very minor when we consider the price.
Connectivity
One of the advantages of being thicker than some is that Acer is able to fit in full-size slots and connectors rather than small ones that need adapters for most peripherals. On the right side of the machine there is a USB 2.0, headphone jack, Kensington lock and full-size SD slot. On the left side are the cylindrical power socket and USB 3.0, USB-C 3.1 and full-size HDMI ports. The laptop does not include any Ethernet port, but the USB-C 3.1 can take on this role with an appropriate adapter so nothing to worry. Acer Swift 3 has a 'surprise' feature as well to delight the users. It is a fingerprint scanner close to the keyboard. You can use it with Windows 10 Hello to login with your finger as an alternative to password or a pin. But remember that it is an older style of finger scanner that makes you swipe your digit across a slim sensor rather than the one you can see on mobile phones. But it actually seems to work better with Windows Hello in its existing state than most.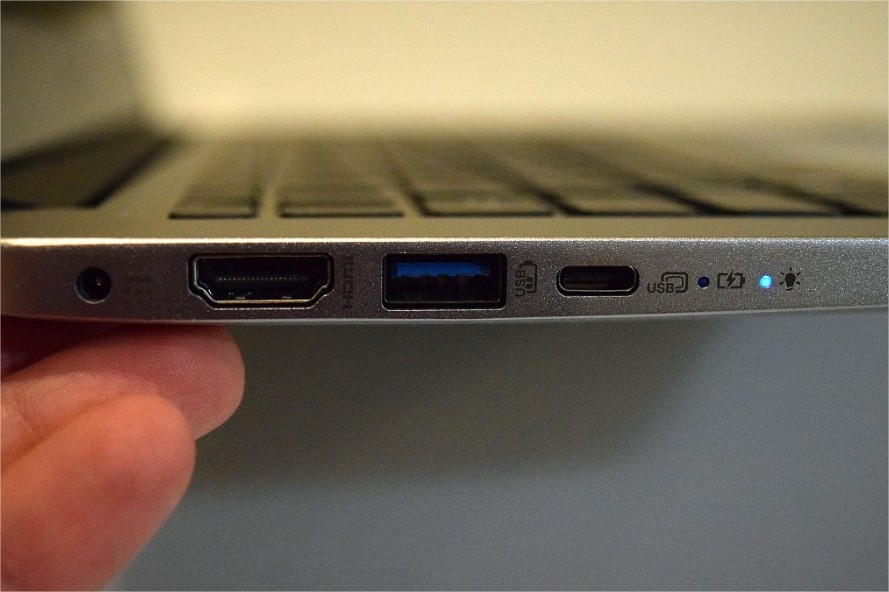 Screen
The screen is good in few aspects but also reveals the Acer Swift 3's lower-price status. This display is much better than that of a MacBook Air as it makes use of a Full HD IPS panel. It's fairly sharp, and doesn't have issues with contrast shift from any angle. Contrast is excellent as well. The screen has a matt finish, which makes it much better at managing reflections compared to a glossy one. It's not a touchscreen, but the center folds a full 180 degrees.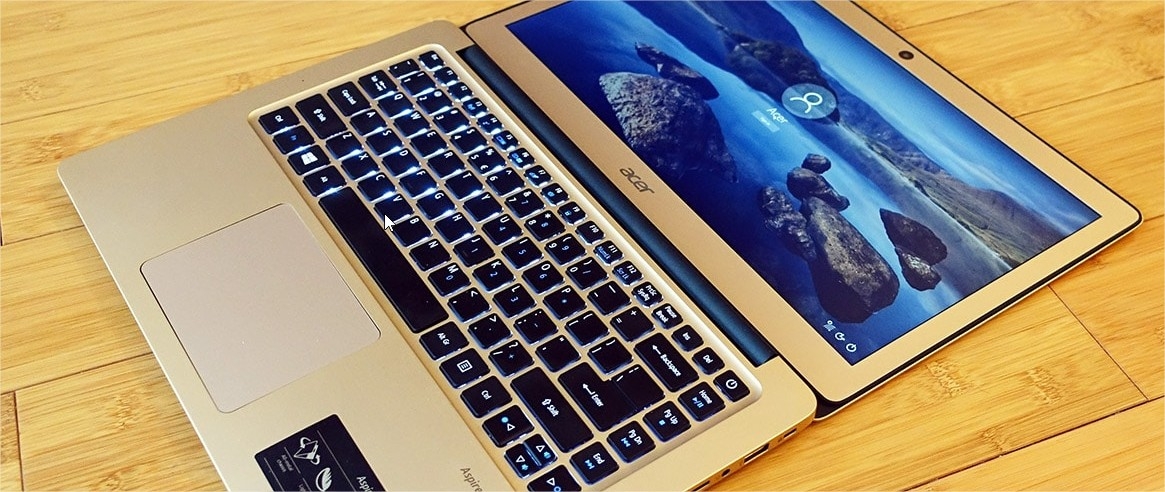 Colour is one weak area. Covering just 55.6 percent off the sRGB standard and 38.6 of Adobe RGB, it's not strong enough for photo retouching or digital art at a pro or semi-pro level.
Keyboard
The keyboard of Acer Swift 3 is excellent thanks to its back light which makes typing in dark rooms much easier. The sub-key LEDs shine through the on every key. But there is no option of changing the intensity of the light. You can turn it on or off, that's all. However, it is a wonderful feature which is often neglected in low end and mid-range laptops. The feel of the keys is great.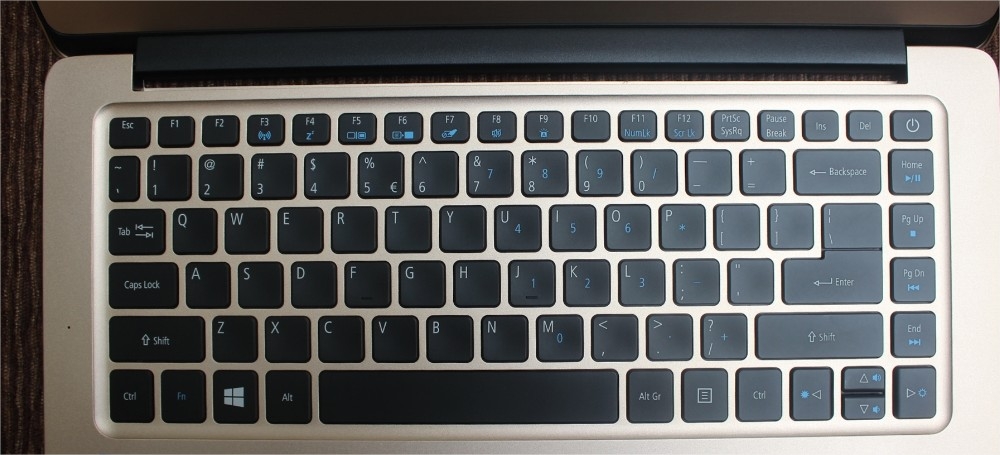 Trackpad
The trackpad has one of the indicative signs of a low end laptop, in that its surface is plastic than textured glass. But, we were actually hard-pressed to tell the difference with regard to pure feel. It's fairly large too, and has a solid click feel.
Performance
All versions of the Acer Swift 3 have Intel Core i-series processors. They are only beginning to move to the new Kaby Lake generation chipsets. The Core i5-6200U is a dual core chipset clocked at 2.3GHz. It's the sort of chip which is used by a number of more costly machines, offering great portable productivity power and wonderful general responsiveness. The i5-7200U is a 2.5GHz chip which boosts to 3.1GHz and got to be almost 15-20 percent faster. The use of an SSD than a hard drive is vital for general Windows 10 speed. It means that the laptop feels just the same as a slim laptop costing twice the price day-to-day.
In addition, as in case of any laptop with integrated graphics, Acer Swift 3 is not a great gaming machine. You can play few years old games on it if you set the visuals to minimum levels and, reduce the resolution a bit.
Learn Also: Samsung Chromebook Pro & Plus to launch in February
Battery Life
Acer Swift 3 promises up to 10 hours of use between charges with the Swift 3. Playing a 720p video on loop at 120cd/m2, it lasts 9 hours 50 minutes which is great. With mixed use we can expect a little less long life, but it should be sufficient to see you sail through a day's work unless you are gaming or doing more intensive work such as processor-heavy image editing.
Sound Quality
Acer Swift 3 is decent enough. While many smaller laptops have started sounding good during the last year, but that is not the case with this machine. Its sound is fairly thin, with no bass and weak mids. Max volume is limited and at high volume the tone takes on a bit rough edge. But the speakers do deliver sound that seems wider than the laptop itself.
Price
Interestingly, the most exciting version of the Acer Swift 3 is the most affordable. The price range starts at £499 for that you get a Core i3 CPU and 128GB SSD. The warranty for all Swift 3s is only for one year and you have to return it to Acer at your own cost. That's less convenient than one that includes the laptop being picked up and returned for you.
The Final Word
The Acer Swift 3 is a great machine for those who want an ultraportable without having to rob the bank to pay for its price. Build quality is great, battery life is decent and performance a match for much more expensive laptops.
---