Facebook's Twitter-like feature to boost conversations
Fatima

September 7, 2016

332
Facebook is testing its new "Twitter Like" feature:
Facebook has developed a habit of borrowing or, most appropriately, copying features from twitter and snapchat. Every year, we see new twitter like features on Facebook. Like hash tags, followers and live feeds. Similarly, this year, again Facebook is attempting to copy twitter like feature named "what friends are talking about". Facebook is just testing this feature on the subset of some specific users.
About Feature:
Facebook intent to bring friends and family closer by this feature. It is a small box on the top of your News Feed which contain the posts of your most close friends and family to whom you talk frequently. It also shows the number of comments and likes that post is getting. You can go directly to that post by just tapping it. What friends are talking about will only assemble the posts of your friends to whom you talk and stay in contact not of those to whom you never contacted for years.
Testing new feature:
The new feature is first noticed by Facebook user "Mashable", who somehow also managed to take the snapshot of the feature. The feature what friends are talking about is not available for all users until it is tested and approved for all users. As Facebook is still just testing this feature so it is accessible to very few users and it is not confirmed that they might use it forever after test.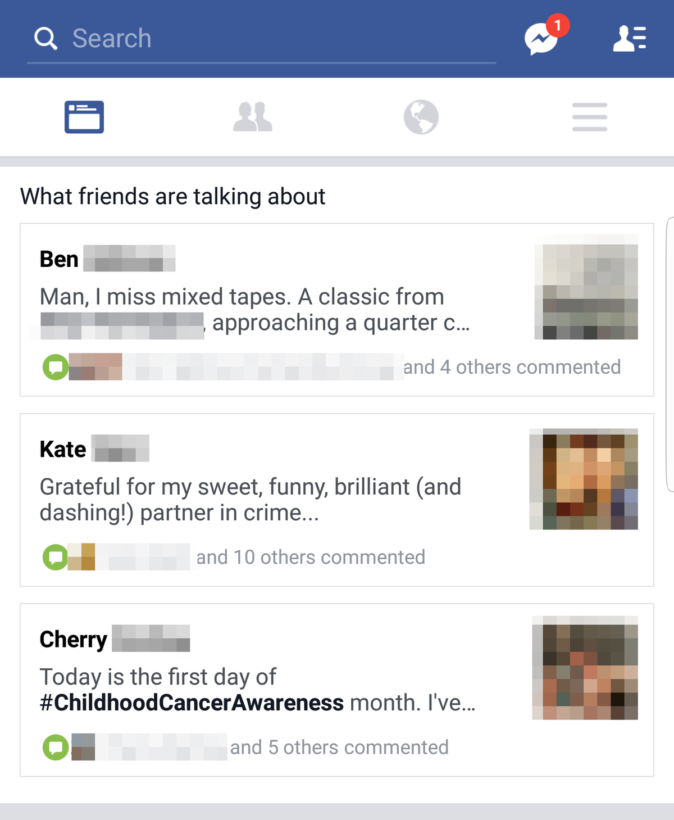 Image Source: Mashable
Pros:
People have no time to scroll down the whole news feed to search for important posts. So this feature will help you saving your time. You will not need to scroll down the whole News Feed to see the posts from your closest friends and family members. You will see all the important posts from your closest friends and family directly into that box at the top of your News Feed. This feature is like twitters post priority where the posts from the people of your first priority comes first in the News Feed.
The foremost goal of Facebook was always to improve the News Feed by promoting sharing, posting and displaying content from friends and family. In June, Facebook decided to further improve news feed to get people engaged with each other. After latest feature of auto playing, Facebook was worried due to the sudden decline in sharing by users. So what's friends are talking about s developed to engage people more easily than ever.
---