How to remove read receipts on WhatsApp
admin

2016-08-02 02:33:01

991
In the current age of internet and mobile connectivity there aren't many who are not familiar with messaging apps such as WhatsApp. Whatsapp being such a popular messaging platform has millions of users. The developers at WhatsApp have put in features such as read receipts in their App, read receipts are check marks which tells a sender the status of their message. A single gray tick means that message has been sent successfully, two gray ticks mean that the message has reached the recipient successfully. Two blue ticks mean that the recipient has read the message. For some users this feature is a breach of privacy. This article will explain WhatsApp users on how to disable the read receipts feature.
How to Remove the Blue Check Marks in WhatsApp
This procedure only removes read receipts from individual chats and not from group chats. Go to your WhatsApp and open the menu by tapping Menu button. In the menu go to Settings>Accounts >Privacy: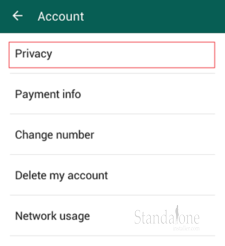 In privacy uncheck the read receipts check box. Read receipts will be disabled and the changes will be saved.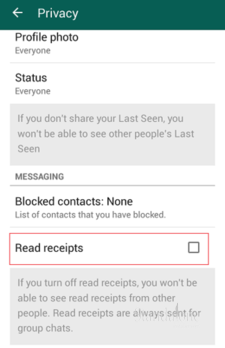 ---