How to change the display resolution in Windows 10?
admin

2016-08-17 01:26:57

800
Windows 10 automatically sets the display resolution based on your monitor's resolution capacity. Your resolution options vary and it depends on the display device you are using, screen resolution determines that how much display information is shown on the screen. On lower resolution screens fewer icons will fit in the screen and will appear larger. At higher resolutions more items will fit the screen and will appear smaller. Windows 10 supports the 4K and 8K display. You can manually change the resolution setting to get the desired display resolution. Remember changing the screen resolution will change the resolution for all the users on the computer. It is recommended to let the windows select the screen resolution for the best display on your screen. Your screen resolution must not be lower than 1024x768 to have multiple windows and apps on your screen running at the same time.
How to adjust your screen resolution in Windows 10
Click on the start menu and select the settings option. There click on system and then display. Once you are in display window click on advanced display settings. There you will see a resolution drop down list. Click on it and select your required resolution.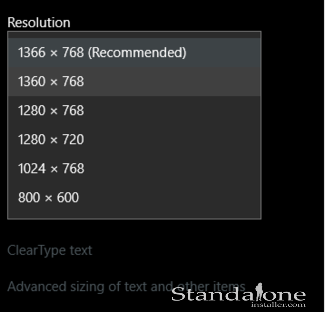 Tip: If you do not like the resolution setting you have made, just click reset to default settings.
---