How to Add Background Music to a PowerPoint Presentation?
admin

2016-08-16 01:06:07

602
This will take you through the process of making your PowerPoint presentations more lively and captivating by adding an appropriate music to the background of your presentations. Any music file or track can be integrated within the presentation and play in the background of every slide.
How To Choose a Background Music for a PowerPoint Presentation
Firstly, the user should keep in my mind the following criteria before adding any music or track to their presentation. Copyrights should be kept in mind and the track should be free to use.The track should not take attention away from the main content .And lastly the track should be in PowerPoint supported format.
How To Play Background Music in PowerPoint
Open your presentation using PowerPoint. Click on the Insert tab> select Media Clips>Sound, and then select Sound From File to be selected from your PC.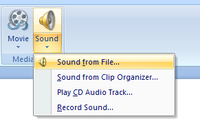 After your sound is loaded, go into Sound Tools and select Sound Options, from the drop down menu next to the Play sound tab select Play Across Slides. After doing so, tick Loop until Stopped.

The Preview Button will help you in deciding the look and impact of your presentation. Background music volume can be adjusted via the Slide Show Volume button ,it has various volume presets.

---