How to fix touchpad in windows 10?
Admin

2016-07-21 06:29:20

1,544
There have been some reports of issues with Windows 10 touchpads. The problems seem to arise owing to a variety of reasons, but these touchpad issues are fixable fortunately. There are many simple tips to follow which will enable users to troubleshoot their touchpads and get them functional again. These tips apply to ASUS, ELAN and Synaptics touchpad variants.
You Accidentally Disabled the Touchpad
Certain laptop models come with a standard switch combo such as Fn +function (F3, F5, F6 etc.) which enables users to turn the trackpad off and on. On such models fixing the issue is just a simple keyboard shortcut.
Windows 10 Disabled the Touchpad
If the users continue to face the same issues with their touchpads they should go into the start menu>Settings>Devices. Next Click the Mouse and Touchpad icon and go into Related Setttings, Open the Mouse Properties Dialog box by clicking onto Additional Mouse Options. This Dialog box displays to the user whether the touchpad has been disabled or enabled. If it is disabled simply enable it and continue using your touchpad.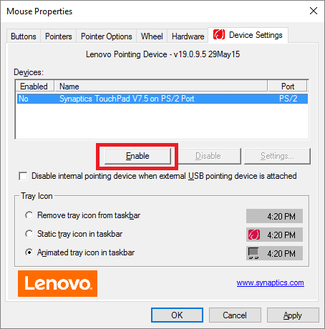 Click Apply > OK to exit.
Windows 10 Installed an Incompatible Driver
Sometimes during up gradation, Window 10 tends to install new drivers on users systems. For some laptops these drivers are not compatible with the hardware.To eradicate this issue go to Start menu and open the Power User Menu, Go into Device Manager. Right click the Touchpad>Properties icon in the mice and other pointing devices tab.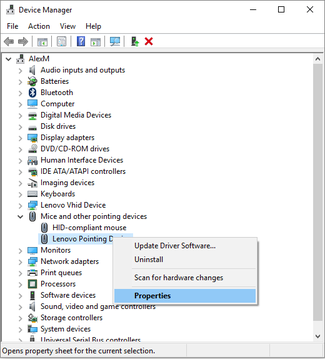 Select Roll Back Driver and follow the onscreen instructions in order to return to your previous driver settings: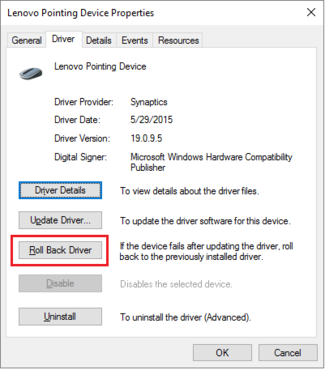 ---