20 Best Calligraphy Fonts
Admin

October 5, 2017

22,266
Do you love calligraphy? Are you looking for unique and beautiful fonts for your next magazine design? Well, if yes, you have landed at the right page. Calligraphy is an art of writing with different strokes and brushes. Once they were used for wedding invitations but now they are more widely used for various designs. There are tons of varieties of calligraphy fonts for you to choose from. Here I have picked 20 of my favorite calligraphy fonts.
1. Always Pro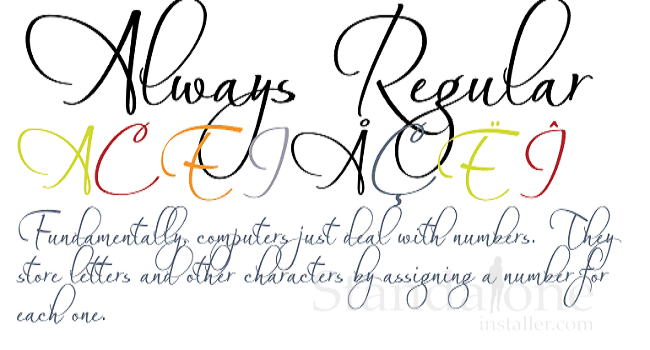 Available in 6 different styles including light condensed regular, condensed light, black, fat and regular, Always Pro is a fantastic calligraphic font that is designed by Anton Scholtz. Each font style is very elegant and is known for its many ornate and curls.
Read Also: 15 Top Script Fonts
2. Burgues Script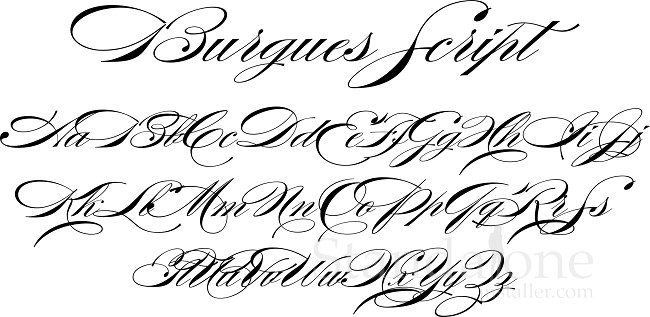 Popular for over a 100 years, Burgues Script is another stunning calligraphy font that is worth checking out. It has been a source of inspiration for a number of penmanship schools. Designed by practiced penman Louis Madarasz known for his contribution in the art of calligraphy, this font can certainly being life to any design work.
3. Edwardian Script ITC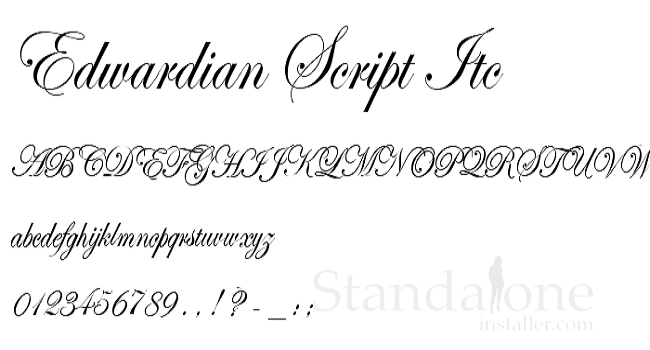 An elegant calligraphic font with tons of flourish and cursive details, Edwardian Script ITC is another must have font for anyone interested in calligraphic fonts. It has a very sophisticated letterforms and characters that appear to come from pointed steel pen. If you want a perfect font for wedding or other invitations, it can be just the right choice.
4. Dom Loves Mary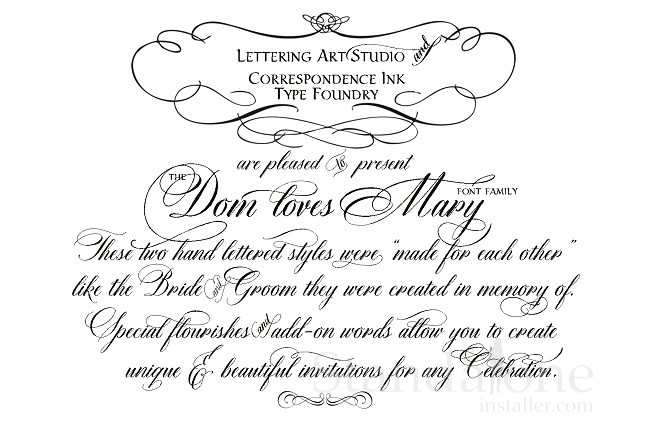 A tribute to the Debi Sementelli's in-laws namely Dom and his wife Mary as a font sign of great life with each other, you must explore Don Loves Mary. It is created to give your design a modern approach of both style and exclusivity.
5. Hummingbird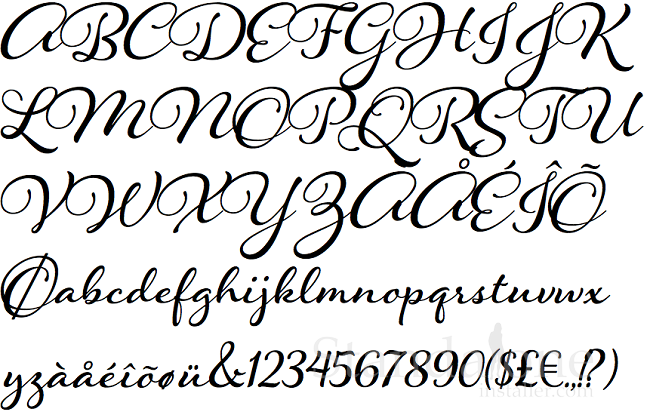 An old-fashioned but chic calligraphic font with various cursive details and stylish scripts, Hummingbird is another choice at your disposal. The homogeneity of this font looks controlled and very luring when put all together. The variant of letters is very stylish as well which can complement any design and make it stand out in a crowd.
6. Aphrodite Slim Pro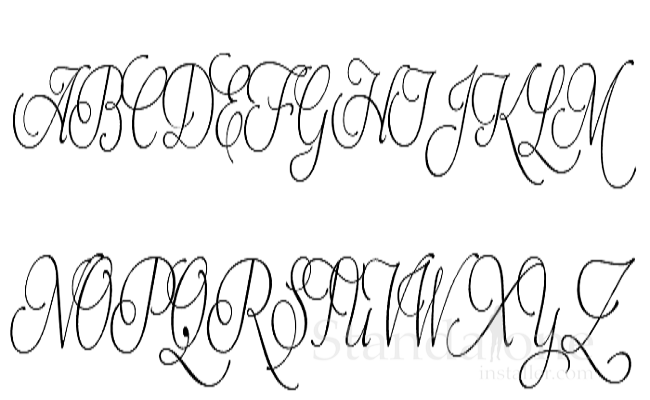 Looking for a perfectly elegant calligraphy font? Aphrodite Slim Pro is the way to do. Falling under the calligraphic font family of Aphrodite Pro, this member of the clan comes with more detailed characters. It offers more than 1,000 glyphs and the swashes are very stylish with numerous curves and flourishes.
7. French Kiss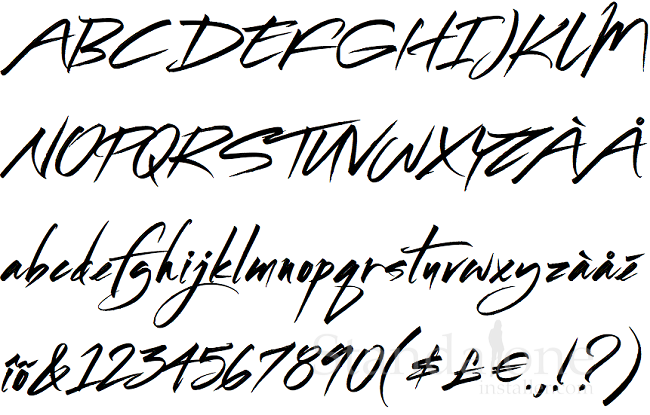 A completely different from most of the calligraphic, French Kiss is known for its broader strokes and separated letters. It doesn't have much cursive details and accompaniments. However, it still bears a classical look. Another choice for event invitations.
8. Hiatus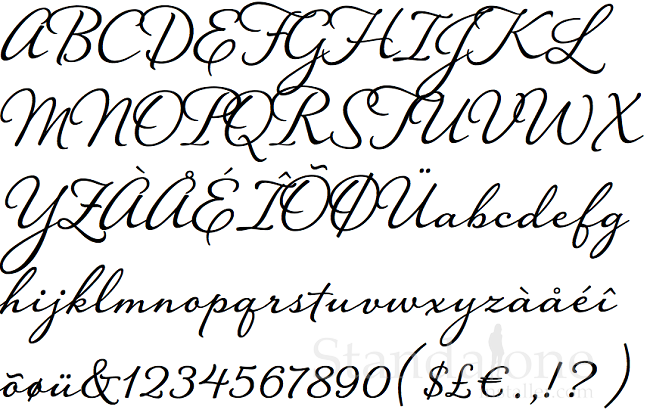 Hiatus is another lovely calligraphic font. It is basically a warmer approach for formal and classical scripts that allows you to make the most unique combinations of letterforms with sufficient letter spacing in capital as well as small letters. It makes the perfect calligraphic font for all needs.
9. Poem Script Pro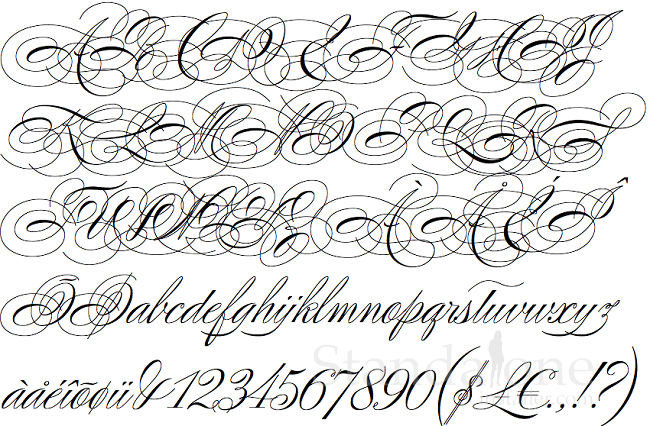 One of the most elegant calligraphic font styles ever created, Poem Script Pro has various unique strokes and thin cursive details. This is the assortment of American pen script style in 19th century. If you are to write a poem in your design, it can be the prefect font as it is one of most used font for poems.
Read Also: 10 Best Free Christmas Fonts
10. Scriptina Pro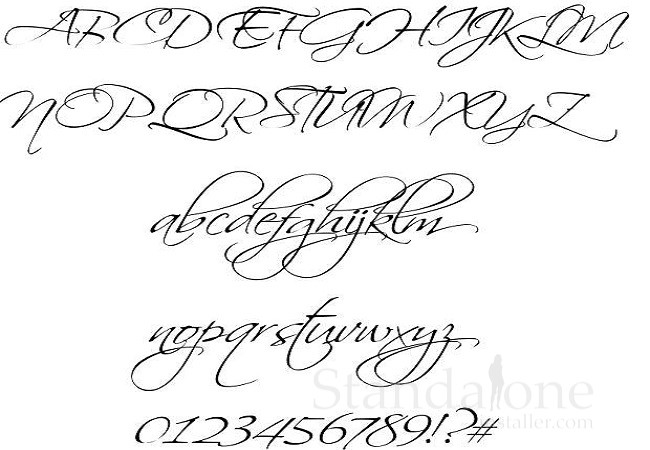 Scriptina Pro is advanced by Fredrick Nader and Roger S. Nelsson published under CheapProFonts - their 100th font. It has a number of alternates available that are all beautifully design to go with any design layout.
11. Lamar Pen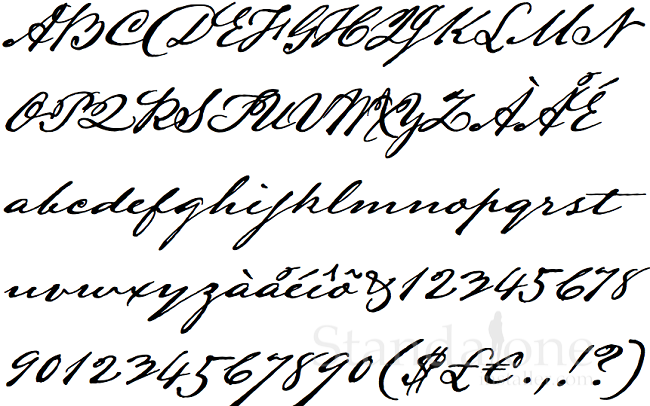 This is a classic and stunning hand-writing calligraphy font style of Mirabeau Buonaparte Lamar. His stylish and elegant hand writing results to a wonderful calligraphic font that looks amazing when letters are combined with one another. So while you look for a great option, make sure you do not miss out on Lamar Pen.
12. Perfumerie Script Pro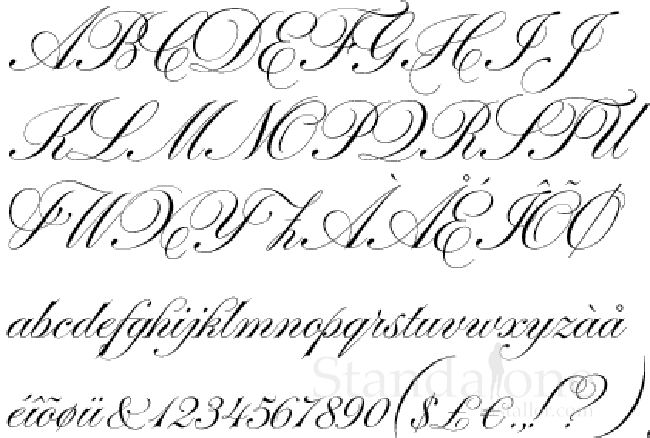 Designed by Sabrina Lopez, Perfumerie Script Pro has a number of stylish and classical calligraphic details. With 2,500 available glyphs and font style, it is based on the author's own calligraphy. This is why it makes an extraordinary calligraphic font style.
13. Corinthia Pro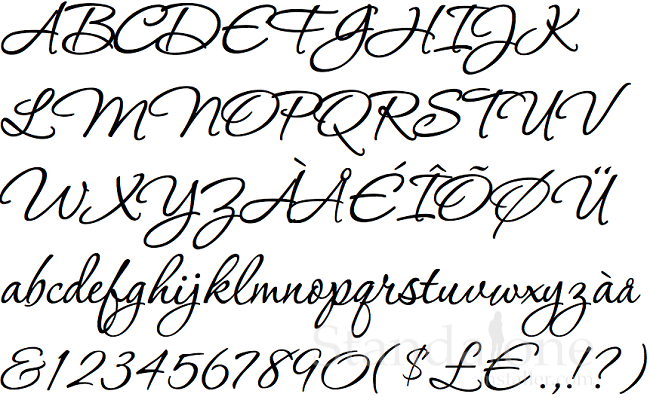 A simple yet elegant calligraphic font is the choice of countless people across the globe. Corinthia Pro has beautiful cursive details designed by Colin Brignall and it is inspired from Gill Sans and Railway Type that appears cleaner and beautifully design to compliment any calligraphic design. It will not disappoint you so you can count on it with confidence.
14. Monte Carlo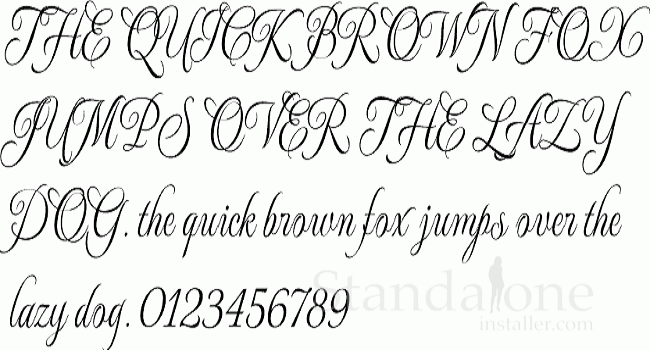 A traditional type of calligraphic fonts that provides a number of cursive details, Monte Carlo is all in one font style. Designed by Rob Leuschke, this calligraphy font has a number of flourishes and ornate that go with each other just in the right way when it comes to wedding invitation.
15. LD Wedding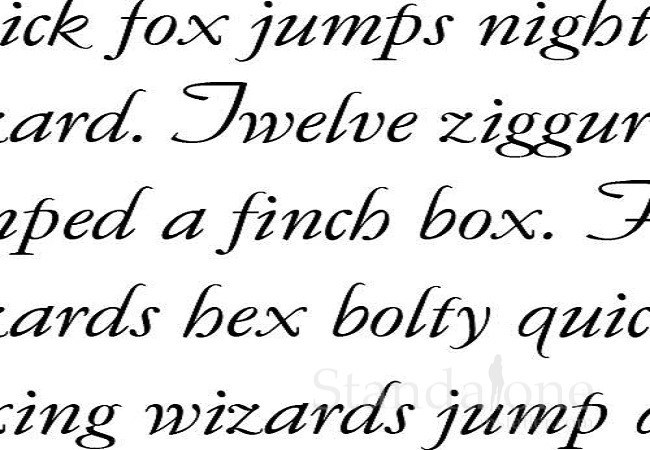 A great assortment of letterforms inspired from Engraver's Old English font, LD is worth checking out as well. This calligraphic font is the lighter version of it and makes one of the most popular font styles for wedding invitations. It has been in use since 19th century and popular even today. So here is something exceptional that you must explore and use in your works.
16. Bellissima Script Pro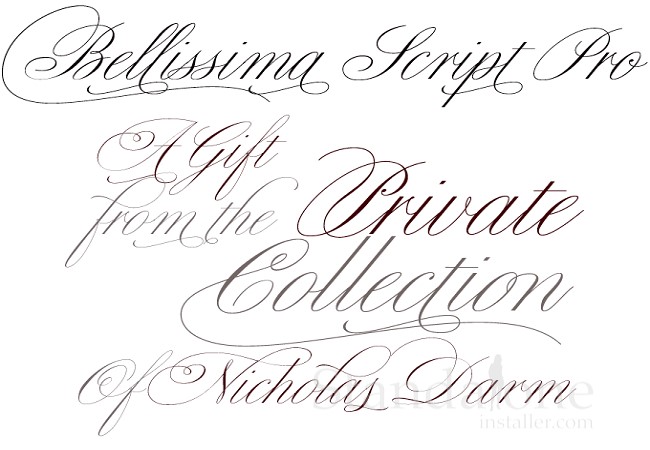 Inspired from the library of Alex Trochut's grandfather made by Ramon Stirling in 1844, Bellissima Script Pro is an awesome calligraphic font that can give a touch of style to your design. It is similar to other popular wedding fonts but not from the same font family.
17. Carolyna Pro Black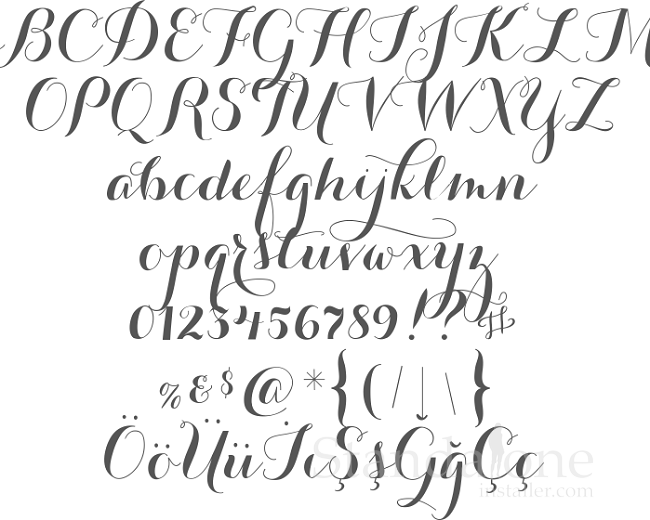 A bolder version of Carolyna Pro, Carolyna Pro Black looks very chic and elegant. It is designed to give more focus on modern hand writing that can be read easily even from a distance. It appears to be hand written and has many cursive details at the same time.
18. Quarzo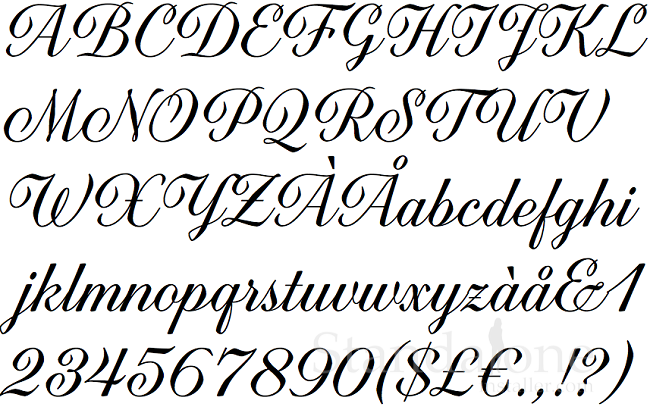 This one is a flexible and chic calligraphic font with rounded angles with details. Quarzo has a very constant stroke with substantial spacing that looks stunning when it is printed, this can be an ideal font for invitation and other events.
19. Samantha Upright Pro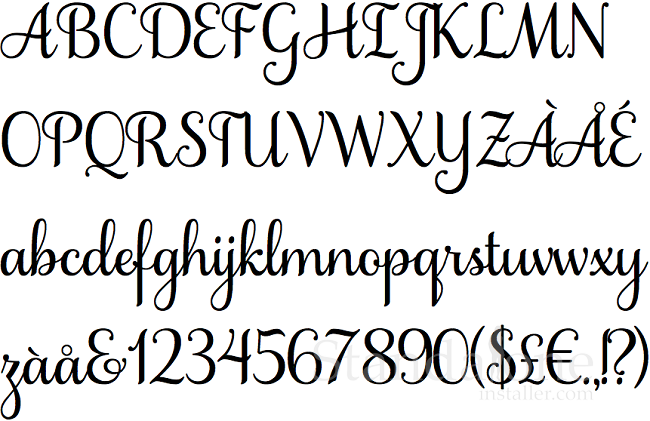 This is another elegant calligraphic font style with various connected strokes, curls and great flourishes. Having more than 2,700 glyphs, it makes an ideal option for wedding invitations and other event invitations.
Read Also: 10 Beautiful Free Wedding Fonts
20. PF Champion Script Pro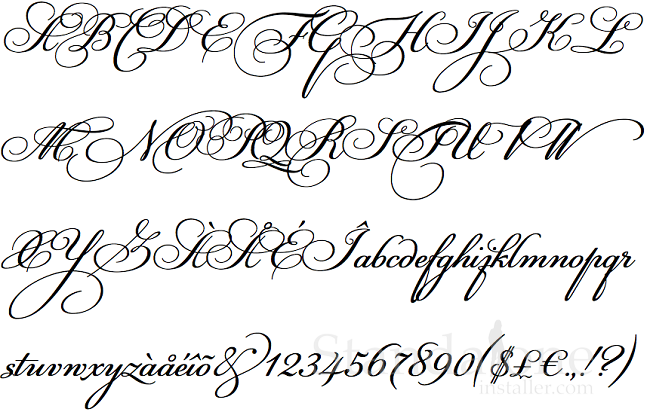 Offering variety of advanced details and stylish approach, PF Champion Script Pro is a powerful calligraphic font that is a must have for any designer. It has beautiful letterfoms with uniformity that provides many curls on both capital and small letters.
Note: Here fonts are provided just for testing purposes, please buy them to support the creators.
---