Best Free Tools to Fix Problems in Windows 10
Admin

April 3, 2017

3,007
While Windows 10 is the latest Microsoft's OS, but it is not flawless. Since its release, many users have faced problems after buying a new PC or upgrading from Windows 7 or 8.1. There are a number of free tools that can help you fix the most common issues on your PC. With the help of these tools you can fix your faulty or broken drivers, restore the components of PC enable or disable hidden settings with ease and also resurrect features you wanted from your earlier Windows versions. In addition, they can also help lock down your privacy settings.
However, before you install these free tools for Windows 10, it important to check out couple of things. Firstly, it is important to ensure that your computer is updated and secure. Microsoft addresses various Windows 10 problems with system updates, so you need to first make sure that your PC is updated and set to update automatically.
For that you need to go to Start > Settings > Update & security > Windows Update. Then click the Advanced options link down the page. Updates always download automatically on Windows 10, but to install you need to restart the computer. If you don't reboot your PC often you need to make sure that the dropdown menu at the top is set to Automatic. In addition, you need to check Give me updates for other Microsoft products when I update Windows. Lastly, click Check for updates, and restart if required.
Other than running Windows Update, you need to install an appropriate antivirus software. Windows Defender is there, but it is not sufficient. Just as other Windows OS, Windows 10 is open to abuse and vulnerable to online threats so a security software is essential.
Here are some of the best free windows 10 tools that will help you resolve almost any problem you encounter on this OS.
FixWin 10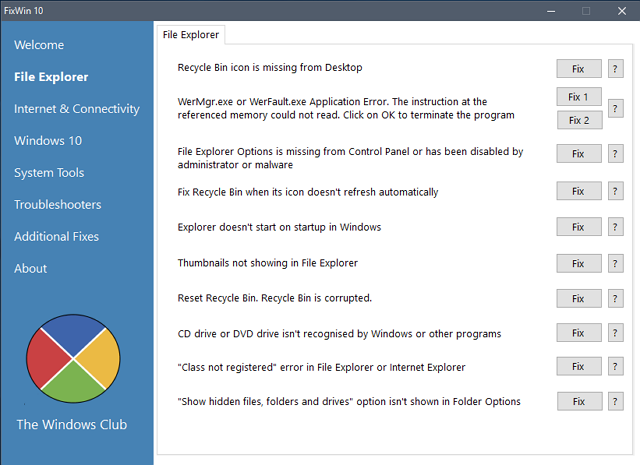 This is another great tool for Windows 10 users which can help fix problems in the OS. The program is portable which means that it does not call for installation. FixWin 10 is divided into 6 sections and each represents issues with a specific component. Each section has at least 10 fixes. Some of them may call for a reboot, but you'll be informed about it when you click the Fix button. The Welcome section allows you to create a restore point and fix any corrupted files on your PC. The one-click fixes in the File Explorer category enable you to add your Recycle Bin icon to the Desktop. There you can see your computer's hidden files and folders as well. Likewise, the System Tools section allows you to fix problems with the Device Manager, Task Manager as well as Registry Editor. In case you are not able to locate the fixes you can just click the Windows 10 section where you can see common fixes regarding your Start Menu, Wi-Fi connection problems, Windows Update, etc. The Additional Fixes section enables you to solve issues that take place after upgrading your to Windows 10 – like Office files not opening and issues accessing Windows Media Player. The Troubleshooter section features easy-to-understand options that open the pertinent device Troubleshooter tool on your computer. Or else you would need to search and open them manually. The Windows troubleshooters can fix issues related to your speakers, printer, Internet connection in addition to Windows Update.
O&O Shut Up 10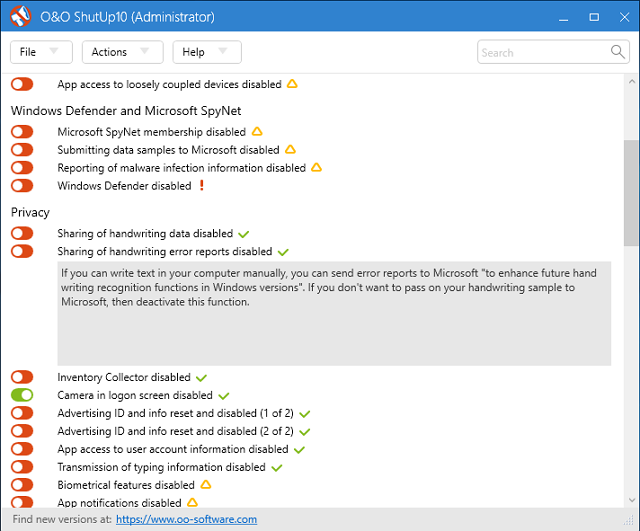 Windows 10 has a number of privacy settings you can customize. But you can benefit from tools that make this work simpler and this Windows 10 tool make a great choice. O&O Shut Up 10 has 9 sections, each with a number of options. Using this program will help you discover that each setting comes with a detailed explanation of what it does. Just click the Actions dropdown menu and choose that option if you want to apply all the recommended settings of the program. You need to address all options having red exclamation marks as these denote settings that are switched off, but have to be switched on. For instance, the software informed us that Windows Defender was disabled.
Driver Booster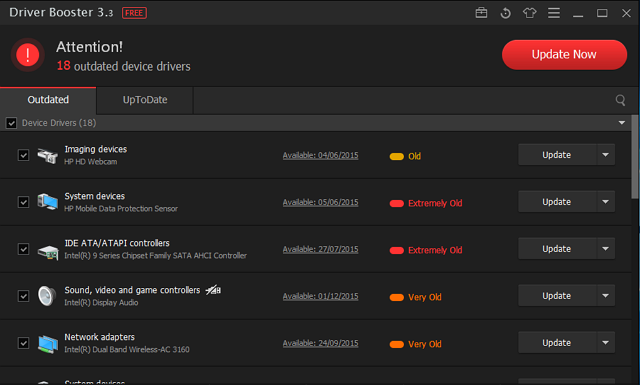 If your Windows 10 PC encounters hardware issues, a faulty driver could be the reason. In Windows 10, Windows Update automatically updates hardware drivers. If you go through the concerns, you can roll back your driver and block future. Many free tools for Windows 10 are available that can update your drivers in a few clicks. Driver Booster makes one of the best options that can fix and update 200,000 Windows drivers. It is divided into 2 tabs – Outdated and UpToDate. Choose the former and click Update Now at the top to update all your outdated drivers together. The program updates these drivers automatically which helps you save both effort and time. You can follow its update progress as well. It is also possible to schedule the program in order to check any outdated drivers that you can then update. This tool for Windows 10 helps to create an automatic restore point prior to updating your drivers. In addition, it has the option to shut down or reboot your PC automatically once it's done.
Ultimate Windows Tweaker 4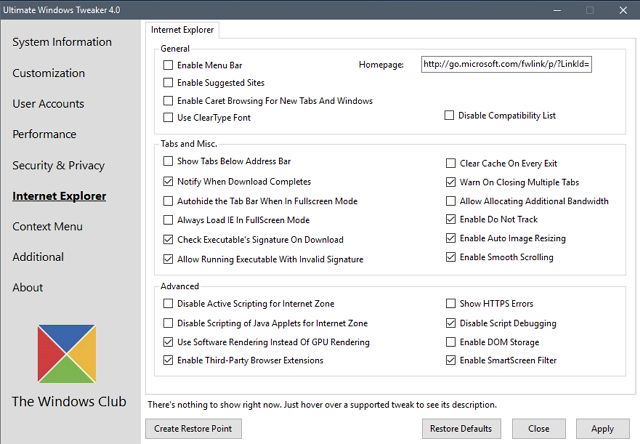 This tools for Windows 10 allows you to quickly enable, disable, hide, or remove some features from Windows. You can make each change listed in this program with the help of the Windows 10 Settings app, the Registry Editor, or the Group Policy Editor. But the program puts all the options within simple sections that list relevant problems which you can address easily. You need to click the Create Restore Point button, check the changes you wish to make and click Apply. The Additional section allows you to bring back Windows 7's Windows Photo Viewer with one click. There are more than 200 Windows 10 tweaks available at the click of a button which makes making wholesale changes to your operating system very easy.
---