Audio Repair-Editing Tools and Techniques
Fariha

February 15, 2018

5,988
Audio repair tools can do awesome stuff for you. Only if you learn when and how to use every tool the results will be much effective and clear. Audio and video recordings is very common and nowadays it can be done with your Smartphone in addition to studios and sound arenas where huge amount of media content are produced on daily basis. As our world is being perceptibly overcrowded there are lots of chances of ruined recording being made like with unexpected electrical and mechanical intrusion, sounds of aircrafts, pets, cats, cell phones, people and most of all human error. These problems mostly occur where you only have one take like when making a live video of an event or you have a deadline to meet.
When you hear the phrase "audio repair tools" you might be prone to think of filthy chambers over flowing with records and tapes. Some projects are engaged in taking primitive records and refreshing them, these tools and techniques can be used in number of situations. Majority of the audios that you record whether it's in the studio, home or any location there is an absolute chance of getting unexpected intrusion of disturbing sounds.
Audio repair tools have different methods and techniques by which you can eradicate noise and other flaws from the sound recording. The problems which can be solved by these methods are:
Disturbing background noise

Tape murmur

Unexpected noises ( cell phones, pets, coughs)

Electronic intrusion

Pops sounds from old discs and from disc spinner

Extracting In both digital and analog domain
Read Also: 5 Best Free Video Repair tools to Fix Any Video
The main aim of suitable audio repair tools is to create the finest sonic results with the least audible human interruption. In spite, your interference in the original recording should be crystal clear and should not comprise of any new interventions which aren't appropriate for the listeners. Often it's very easy to overcome the audio issues from the scratch while sometimes it all about balancing out and maintaining the true essence of the audio while making minimal changes. However, the underlying purpose of the restoration is to produce a good output with least noticeable changes.
Audio Repair Techniques
Here are the top audio repair techniques that can prove to be very handy:
Dereverbs
Dereverbs are amongst the latest and most innovative which are designed to eliminate and reduced the reverberations from audio. These are mainly used for editing dialogues, matching ADR and enable the user to eradicate unwanted or unnecessary reverberations from recordings of the dialogues.
Denoisers
Denoisers are created to get rid of the hazy background noises. The slowly changing noises are curtailed through the denoisers. These can be either in form of hardware of software such as ANR-B; iZotope.Denoisers can either be multiband or spectral and are sometimes designed for specific uses such as vocals.
Declippers
Ideally used for repairing analog and digital clipping artifact. These artifacts pop up usually due to overloading of AD convertor or too much saturation of magnetic tape.
Declickers
Declickers have multiple uses ranging from removal of noises of pops and clicks to the noises created due scratches on CD.
Decracklers
Decracklers are much related to declickers. However, they are optimized to help lessen and do away with a more constant nice stream of clicks that mix together to cause what the human ear recognize as common hiss. Using a decrackler before using a denoiser is usually more useful way of dealing with exterior sounds recorded from records and discs.
Visual editing Tools
Visual editing tools differ by producer, but the main principle unite visual representation of audio, using a wave form or a spectrogram, with tools giving you the permission to choose and edit different audio events rather than the whole file.
A word of advice
With all the tools accessible, you may wonder where to start. Well, there isn't a single right order in which to make use of them; it all depends on the audio stuff you're refurbishing.
You should always start with the most clear or horrible problem that you can hear and recognize. Then depending on the audio it will make logic to do some processing tasks before other do.
Audio Repair-Editing Tools
Amongst the various audio editing tools available in the market, we got our hands on some of the best tools which fall in the affordable price range of less than $100. These tools were assessed on specific traits including file compatibility and noise reduction capacity. Our analysis is meant to provide you with the best options which are highly compatible with podcasters and are not too heavy on your pocket at the same time.
However, the choice of software must be in line with your requirements. So, before you finalize the option, keep a few factors in mind such as the level of perfection that you need with the editing and if the software isn't up to the mark only then you should consider utilizing the music production software as it enables you to combine virtual instruments and all.
Acoustica Standard Edition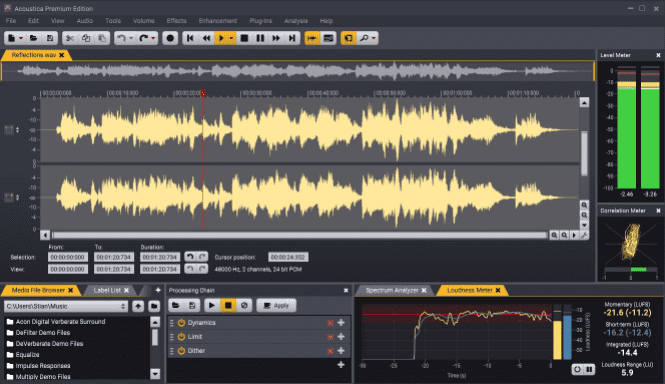 In terms of affordability, Acoustica Standard Edition is our favorite. Its price range is limited to $60 and its compatibility with PC Operating systems along with Mac is quite alright. The customization of workspaces and toolbars allow a great room for improvement in your workflow. Besides, the added benefit of this tool is its advanced restoration features which are not only user friendly but also help cut down the noise and produce excellent results. Acoustical has a variety of economical options for the users, for example, you can download the free version which may have lesser options but is sufficient for basic level editing. On the other hand, its premium version is the high end option for anyone with advanced editing requirements. The features offered in the premium version are different than the free or standard version and it's highly recommended for clients with professional editing requisites. The best plus point of this software is its simple file conversion. During the testing phase, we successfully transferred a number of file formats without any hindrances. Moreover, the main manufacture page offers a variety of support options. The users are offered email support, and a user forum is also available to resolve any concerns.
WaveLab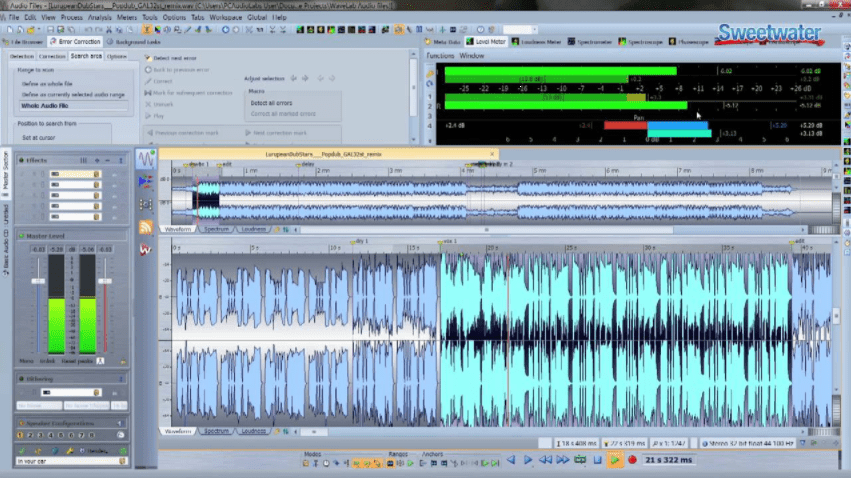 Our experimentation phase with this software easily enables us to mark it as the best software for editing and restoring. However, as far as price is concerned, Wavelab falls on a slightly higher end and there are a number of software which can be alternatively used to meet the audio editing needs. The Wavelab comprises of 18 VST 3 plug-in. Several restoration tools are available within these however; these aren't as inclusive as the Sonnox plug-in. With time and alterations the software is able to eliminate the pops and cracks from the audio. The software was also tested of its capability of importing video files and take out the audio date from them. The software is also used to convert the audio files to a completely different format.
Adobe Audition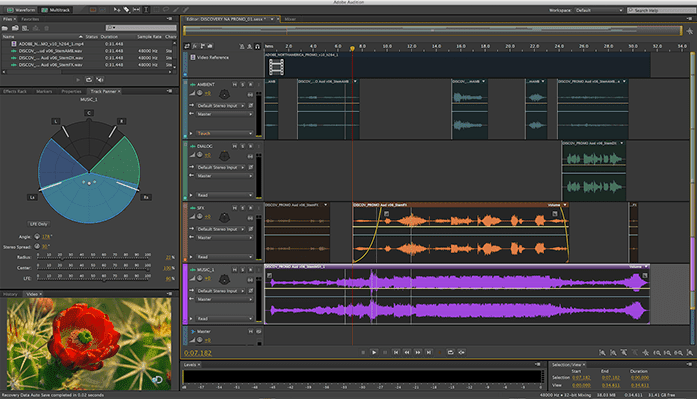 Adobe audition has amazing audio restoration tools of the programs that have been tested. It has a spontaneous and customizable user interface. The software can export and import all types of audio file formats and can also take your audio from video formats. The bad part is that the software cannot be purchased permanently. The subscription is worth it because class of editing and restoration tools is just amazing.
WavePad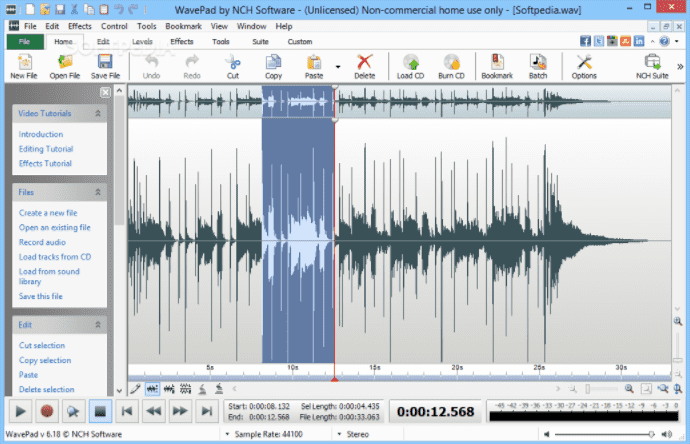 Wavepad has a very easy and useful interface. Having a huge toolset you can perform number of audio editing tasks and convert different format files to audio files. The file conversion and importing capabilities of wavepad is just amazing, recently the software stated that it cannot convert MP4 and video files but the company is working on it and will soon release a version which can do so.
Diamond Cut
Diamond Cut is more costly than other softwares. The software has powerful editing, effects and restoration tools. When the audio is imported in to editor of software lots of audio editing tools come in front so that you can edit the audio file easily. Once you found the suitable tool editing the file is a piece of cake. The software has noise filters and audio file conversion capabilities but still it's unable to convert MP4 files and extensions that are connected to MAC audio.
Triumph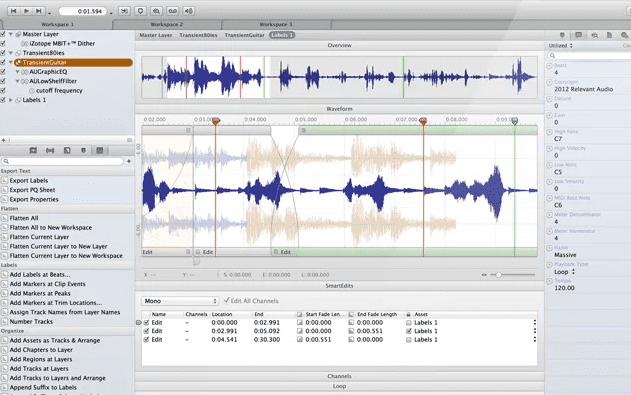 Triumph formerly known as Wave editor, the new name of the software is Triumph which is refurbished in a far better way. The Mac audio editor is whole new software now. The software has a very easy interface is divided into main areas like the sidebar, the layer list, wave editor and the asset list. The software keeps everything very organized. The plus point of this software is that it breaks the audio into layers so that you can change sample rates to various layers or just reorder them and in the eng you can get all the layers together to get a single perfect audio You can import all the formats except the wma file formats.
MAGIX audio cleaning lab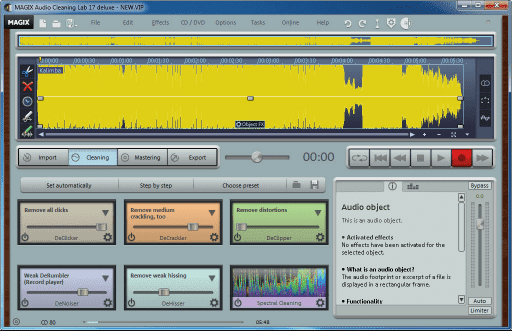 With very less toolbars, menus and controls, the MAGIX audio cleaning lab has very simple layout. The audio editor is very handy and encourages the user to use it. The restoration tools lie at the bottom where they are divided into 4 parts export, import, mastering and cleaning. It can import all audio file formats and can also convert them except for AIFF and AU.
Felt Tip Sound Studio for Mac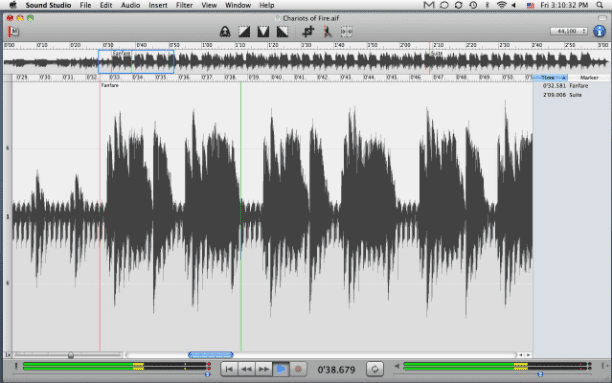 Felt Tip Sound Studio has many editing tools, it can be used to record a single audio file but cannot record live bands. The software is very easy to use and is user friendly. The best part of this software is that you can modify the toolbar as you like and can add as many tools and icons as you want. The software does not have multi tracking capabilities and can only record single audio source. You can take out audio data from MOV and MPG video files but cannot take out audio files from DV and WMV video files.
Sound Forge Audio Studio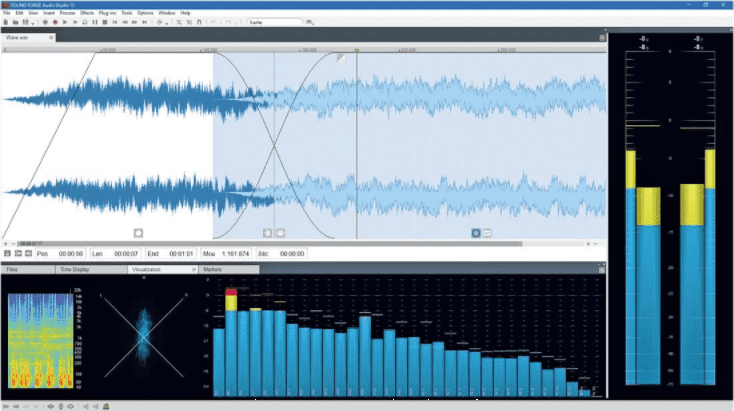 The software is less expensive then it professional version which is Sound Forge Pro but still the software has many restoration tools and the capability to digitize vinyl recordings straight into the program. The software also includes many effects which makes the end product even more impressive. The best part is that the interface of the software can be modified as you like which means you can make you own audio editing experience with Sound Forge. You can extract audio data from various video files like from MPG and M4V.
---
For example a deep hiss, a noisy hum, or a harsh clipping might at first stop you from hearing and facing audio problems. Doing the first step may make the second step more to you. Just don't freak out to try out various blends of the tools to get the result you want. We seriously advice you teach yourself about the job of individual tools in your toolbox. Devoted audio repair and restoration tool can do an awesome and self sufficient job, but learning where, when and to what extent of force to use a specific tool can bring better, quicker and clearer results. It's also very helpful to set a goal before setting out. Do you want to handle each file with extra concern and concentration, or you set the most suitable settings with which you can process many files quickly.
Quick tips
Keep the mind and ears open, while you're restoring audio work. Taking breaks and refreshments in between is beneficial for the required work to be perfect.

You must backup your genuine audio file before you start restoring it because some edits are permanent once you save the file so backing up your material is must.

Keep complete notes. This is priceless, mainly when there are so many diverse techniques for dealing with various audio problems.

Make several versions. Sometimes it assists to try doing the same audio fix more than once with various settings and then evaluate the results.

The last and the most important is to backup the restored work you've done as you never know when you're hard drive or the original master collapse.

Surely after walking through the information choosing the ideal audio repair and restoration tools will be much easier to use for anyone in future. Good Luck!
---