5 Top Free Web Statistics Tools
Admin

December 20, 2016

453
If you have a website or if you are planning to make one, you must get to know about web analytics tools. These tools are essential for every site as they help to keep track of traffic and create strategies likewise. There are tons of free web statistics tools that you can find and use on your site in order to track traffic count, behavior, type and more.
While every web analytics tool offers unique features, it is essential to look for the best one. It is not a great idea to use a number of analytics tools – it is not good for the performance of your website. Ideally, it is best to just use one or two web analytics tools that offer maximum features you are looking for.
Learn also: 12 Awesome WhatsApp Tips and Tricks
I have chosen 5 of the best web analytical tools that can be used for free.
1. Google Analytics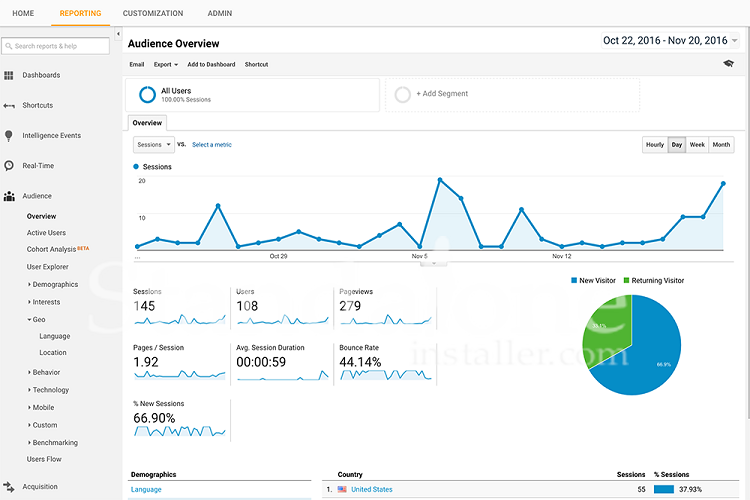 This is one of the best web statistics tools that provide you with a variety of great features perfect for most web developers. With the help of this tool you can track web traffic source, count, on-site behavior, conversions, clicks, and much more. In addition to tracking visitors, Google Analytics helps to optimize your site for better ranking as well, turning visitors into customers. It provides tips on speeding up website, insight on visitors' behavior, managing content as well as benchmarking tools. This web statistics tool offers a basic real-time report that displays the complete time spent on each page, the number of visitors when they arrive or leave and content they click on. But, when it comes to real-time traffic analytics and deeper analysis of traffic, this tool does not offer much.
2. Open Web Analytics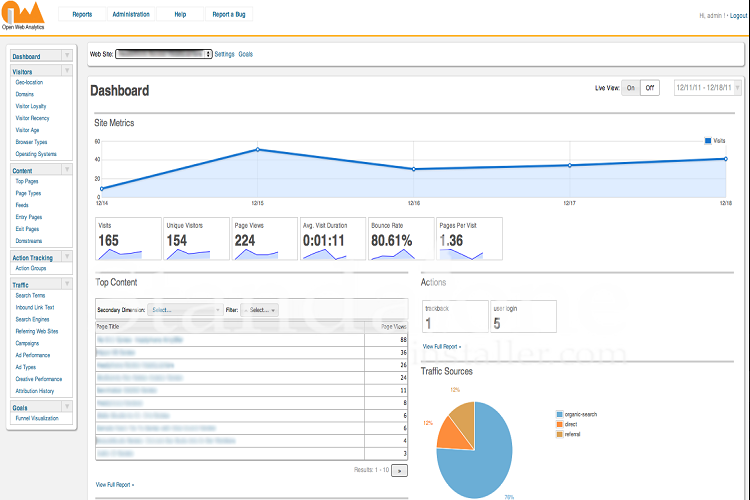 An open-source analytics tool, Open Web Analytics is one of the best and free web statistics tool that you can use. It has similar features as Google Analytics however it removes all types of third-party tracking which makes it one of a kind. Depending on your choice, you can integrate its PHP API in your application API or use its WordPress plugin in case you have a WordPress site. Traffic count, monitor individual visitor behavior, track clicks, multiple website analytics support, view heat maps, track subscriptions, track entry/exits and more, there are tons of features that this great tool offers for free. Open Web Analytics has particular features for WordPress sites as well such as track comments by specific visitors, ability to track users by given email and track pages by various categories.
3. GoingUp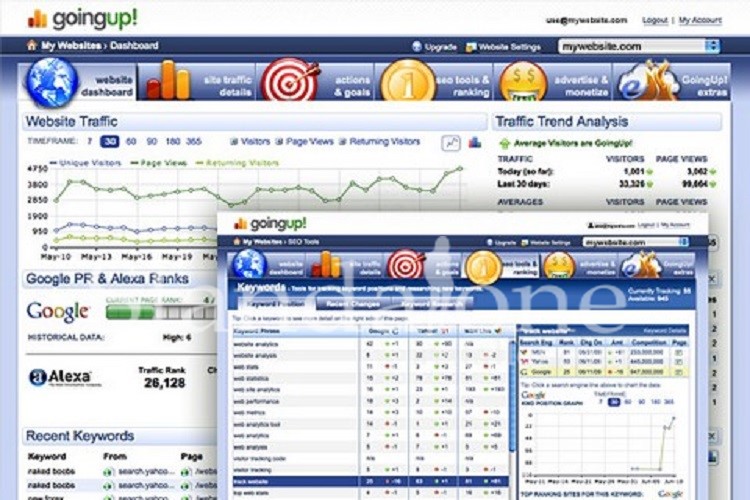 Offering an all-in-one solution to help you manage your website and create strategies, GoingUp is another great web statistics tools that combines web analytics with SEO tools. You can track traffic behavior on individual pages with this tool in addition to dissecting issues by comparing the performance of every page. It allows you to see from where the visitors are coming and where they move next as well. Apart from traffic tracking it shows keywords that are bringing in traffic. In addition, it helps create custom profiles of visitors, goals as well as custom actions to track, research for keywords and track Google page rank for individual pages. That is not all, this free web statistics tool also gives you the power to see heat maps, optimize pages for improved SEO and more.
4. AWStats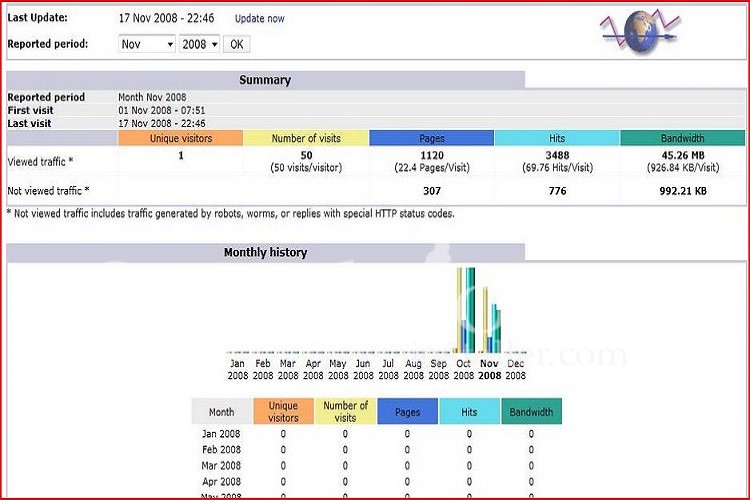 This is an open-source statistics tool that works on server side instead of the website. This great tool has the power to read various types of log files and examine numerous websites that are on the same server. While still has offers basic tracking features, it's a great free choice if you want a tool that works server side and is open-source. You get tracking features such as time a visitor spends on your site, visits count, bandwidth usage, entry/exit pages in addition to protection against worms attack.
5. StatCounter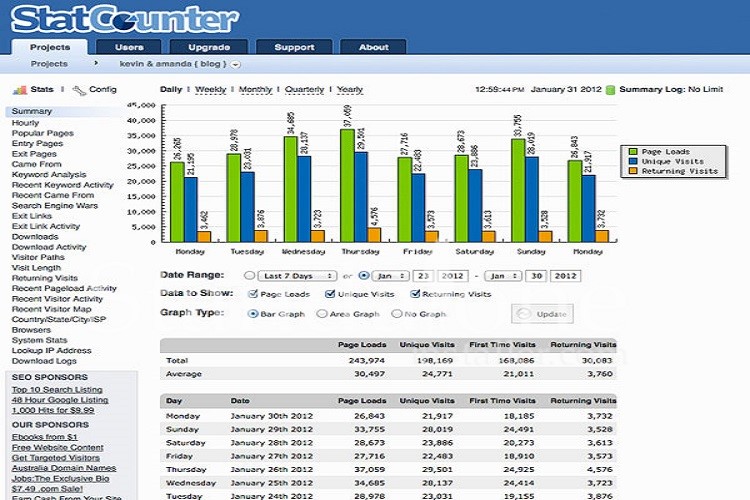 StatCounter offers a range of features that can prove to be great for your website. This tool helps tracking for up to 250,000 visitors a month and that too without any cost. That is why it makes a wonderful free web statistics tool if you own a medium sized blog or if you are into selling a product/service. It provides invisible counter, activity of visitors before and after visiting your site, heat maps as well as search engine comparison. You also get to find out what visitors are doing in real-time, share access with your team, track HTTPS websites, show site stats publicly and enjoy a bunch of other useful features.
Conclusion
While Google Analytics is the most popular and complete free web statistics tool, those of you who wish to have in-depth stats can opt for Open Web Analytics. Some may find it bit tough but its real-time tracking features are far more superior and useful compared to Google Analytics.
---