12 Awesome WhatsApp Tips and Tricks
Admin

December 19, 2016

472
Do you wish to use WhatsApp like a pro? Well, there are number of Whatsapp tips and tricks that can help you make the most of this amazing app. We all know that WhatsApp has been getting new great features to make messaging a breeze for all. I will let you have a close up on some of the most amazing tips that will allow you to utilize WhatsApp in the best possible way.
Learn also: 10 Free High Quality Stock Videos Websites
1. Using WhatsApp in a Web Browser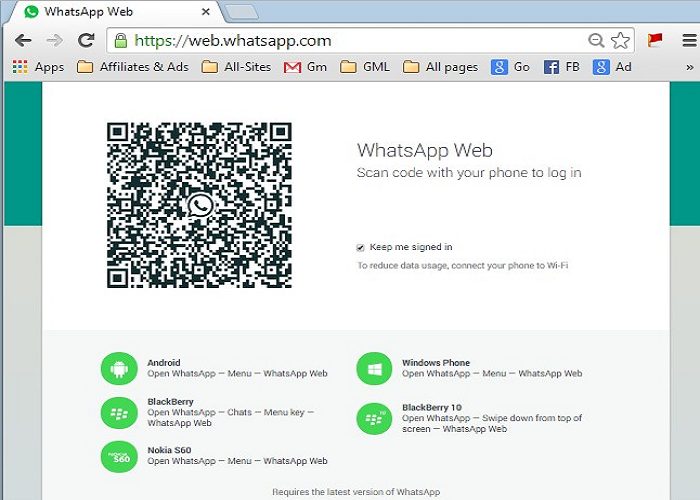 Another Whatsapp tips and tricks is WhatsApp's web browser version allows you to connect to your mobile. It means that you can type out and read all your messages on your laptop or PC. For this you need to go to web.whatsapp.com in a web browser on your PC and on your mobile you have to open WhatsApp. Now click the Options button at the top right, tap WhatsApp Web from the options. Using your phone now you have to scan the QR code on the browser on your system. Your mobile device will be connected to your computer's WhatsApp. So you can start messaging as you would on your phone. This is one time process and then you can be connected on as many desktop devices as you wish. If you wish to log out of all connected devices, you just need to go back to the Options > WhatsApp Web page and Log out from all computers.
2. Formatting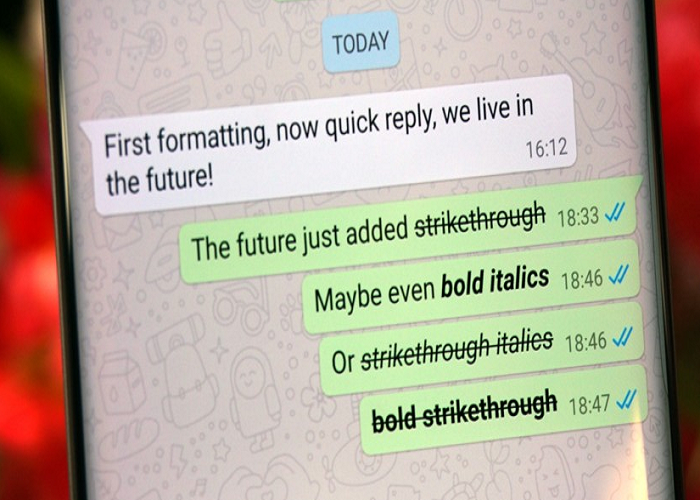 Do you know that you can format your message in WhatsApp? Yes, that's true. It is similar to formatting messages in Microsoft Word or Google Docs. It is possible to _italicize_, *bold* or ~strikethrough~ your message. Isn't that cool?
3. Backing up Conversations to Email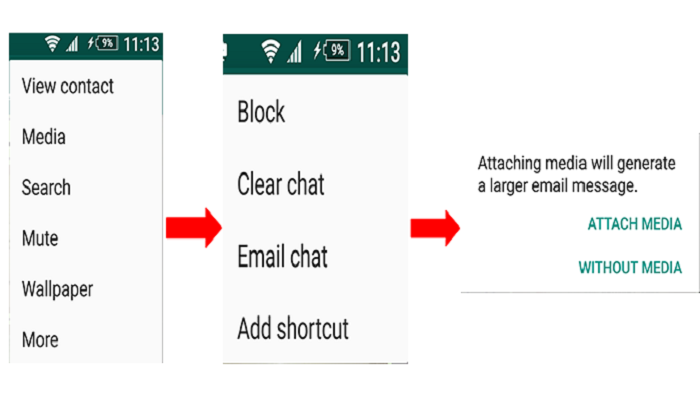 Using this app you can also keep a copy or backup a conversation to your email. Just open the chat you need to save and click Options > More > Email chat. Follow the instructions you see on the screen. Remember that you have to backup each conversation separately and though you have couple of options to send the conversation, you can just send up to 40,000 messages.
4. Transferring Files to/from PC
This Whatsapp tips and tricks allows you to receive on your PC all that you get on your mobile through WhatsApp. It is a great tool that helps to transfer images or screenshots from your phone to your computer without using cables. Simply send the image to your friends on your mobile, and on your PC, open your WhatsApp Web version in order to save the images.
5. Minimizing Mobile Data Usage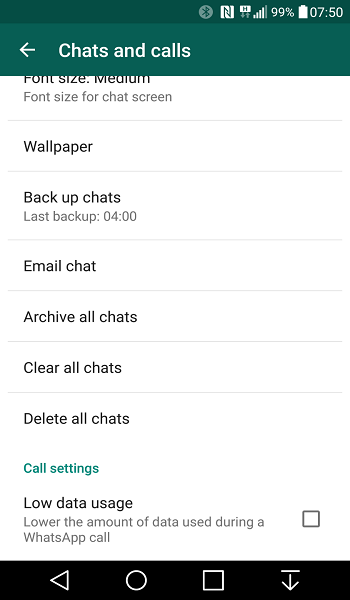 While voice and video calls in WhatsApp are wonderful features, they consume much bandwidth to deliver excellent voice and video call quality. Those who wish to save on their mobile data usage can modify things. You can go to Settings > Data usage > Call settings > check Low data usage.
6. Backing up Chats to Local or Cloud Storage
You can back up your storage also. In order to back up your device's local storage and cloud storage you have to open the app and go to Settings > Chats > Chat backup and click BACK UP.
7. Knowing when Messages got Read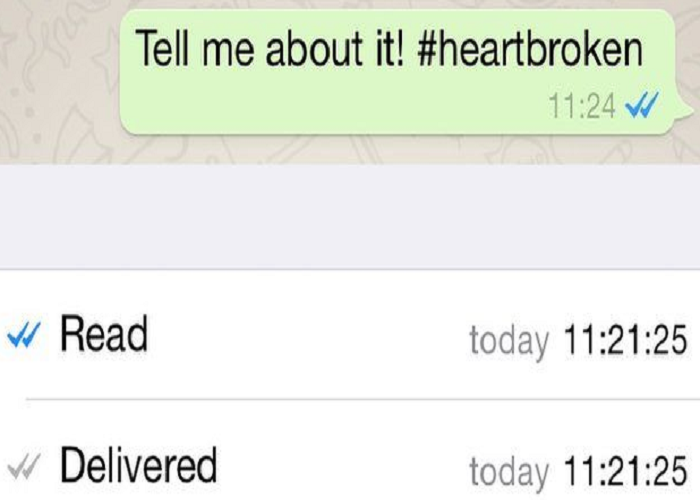 You must be knowing that the grey ticks shows that the message has been delivered and blueticks means that the message has been read. There is an option that gives you the exact timestamp of when a message has been delivered and when it has been read. In order to view the Message info screen and check the sent message's details you got to open a chat. Then tap and hold a message that you have sent. Now tap the info (or i) button from the action bar.
8. Hiding Notifications from Lockscreen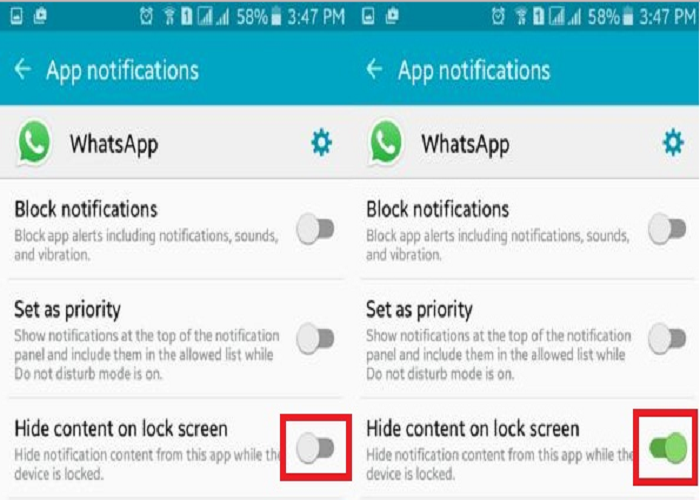 You may get notifications even when your phone is locked. This Whatsapp tips and tricks prevent your messages from being read by others with no access you can disable the lockscreen notifications. To do this just open Android's Settings > Apps > WhatsApp > Notifications and toggle off Lock Screen Notification.
9. Configuring the Privacy Options
Those of you who don't want to be last seen by others can hide this feature. Just go to settings at Options > Settings > Account > Privacy. Now select if you want your last seen, profile picture and status to be visible to Everyone, My contacts or Nobody. That's all! It is possible to remove read receipts by tapping on Options > Settings > Account > Privacy. Now uncheck the Read receipts option.
10. Tagging People and Quoting Messages
Now it is possible to tag in group conversations using @, followed by the name. The one who is tagged gets the notification even if he has muted notifications for that group. You can quote messages to show you're replying to that particular message as well by tapping and holding a message. Then clicking on reply in the action bar, typing your message and clicking the send button lets you do that.
11. Directing Replying and Popup Notifications
WhatsApp supports the latest notification feature in Android that is, Direct Reply. It allows you to reply to any incoming WhatsApp messages even when you are outside the app. So you can reply to the message from the notification bar by enabling the popup notification.
12. BCC or Broadcast Messages
Another amazing Whatsapp tips and tricks is that it allows you to send messages to a group of people without disclosing each other's identity. You don't have to add them all in a group to do this where all contact numbers are exposed to people outside their contact list. It is the BBC option that allows you to do the job without revealing recipient contact numbers. In order to make a broadcast list you have to go to the conversation list screen > Options button > New broadcast. Select the recipients for the new broadcast. Then Click 'Done' and you can send messages to this broadcast list just as you can to any contact or group.
By using these Whatsapp tips and tricks I am sure you will be able to make the most of this fabulous app. You will now be able to enjoy added power which will take your messaging experience on this world's favorite app to the next level. Happy messaging
---