The Powerpack Sony PS4 Pro Arrives Nov. 10
Fatima

September 19, 2016

334
Today, the Sony revealed the PS4 Pro that runs a GPU with double the power as seen in the PS4, a CPU with an enhanced clock speed, and a bigger 1TB hard drive.
This PS4 Pro shall be available from November 10 for a price of $399. However, the slimmer version of the standard PS4 i.e. with a smaller profile, will arrive on September 15 for a price $299.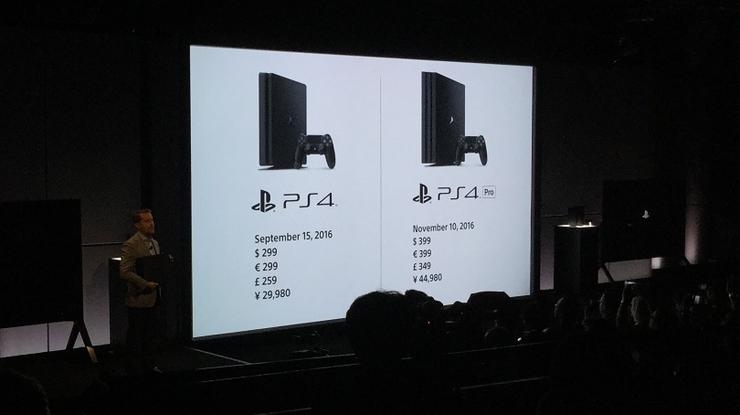 Launching:
At an interactive event in the New York City, Sony's representative Andrew House elaborated the PS4 Pro as a progression of the console that will convene hand in hand with the standard PS4 instead of serving as a novel console generation.
Resultantly, PS4 Pro highlights 4K and high dynamic range technologies (HDR) seen in new high-end televisions. Sony displayed preview footage from:
• Spider-Man,
• Deus Ex: Mankind Divided,
• For Honor,
• Rise of the Tomb Raider and
• Watch Dogs 2 in 4K HDR.
As per the company, the footage was condensed using PS4 Pro hardware. However, the query is whether PS4 Pro will render games inherently in 4K for attuned televisions or alternatively shall render at a lower resolution.
The difference is notable, as the video up conversion yield less impressive results compared to the native rendering. Also true as PS4 games usually top out at 30 frames in a second.
HDR output:
HDR output is not much of a technical question as SDR conversion to HDR is via expansion of the range of color and light in the video signal. The result is cartoon like and oversaturated look for movies with potential of improved look in case of some games.
All of the PS4 games will work on standard PS4 and PS4 Pro. However, Sony is boosting the third-party developers to exclusively take the lead on the PS4 Pro's enhanced power, as it is provided with hardware-specific support.
A fresh Netflix app bracing 4K HDR content will be accessible for the PS4 Pro on launch. By the end of the year, six-hundred hours of 4K HDR video will be on Netflix. This will include the future Marvel series "Luke Cage"
---