Pixel or Pixel XL? Which Google phone is right for you?
Fariha Khan

October 5, 2016

558
Google has finally revealed its much awaited smartphones. Yes, we are talking about none other than Pixel and Pixel XL. While HTC has made these devices, the company claims them as "Made by Google". Well, forget about the maker for now and let us explore which device can be just the right choice for you.
A Smartphone like others
When it comes to the specifications, the Pixel and Pixel XL are much like other smartphones available on the market at present. Most of these devices come with a 2K display, 4GB of RAM, a Qualcomm Snapdragon 820 processor, and a nice camera. The standard Pixel has a 1080p display, the specs of both the handsets are pretty decent.
Where lies the difference?
Compared to 2015, the year when the Nexus 5X had a slower processor and less RAM, than the Nexus 6P, screen resolution is the only actual difference between Google's Pixel and Pixel XL. The larger phone has a 2K display but the 5-inch phone has a 1080p screen. While it is not that bad, it effects the viewing experience. Particularly in case of virtual reality, this might seem something big.
Here are the complete specification of Google Pixel and Google Pixel. Make sure you go through them well so that you can make a well informed decision.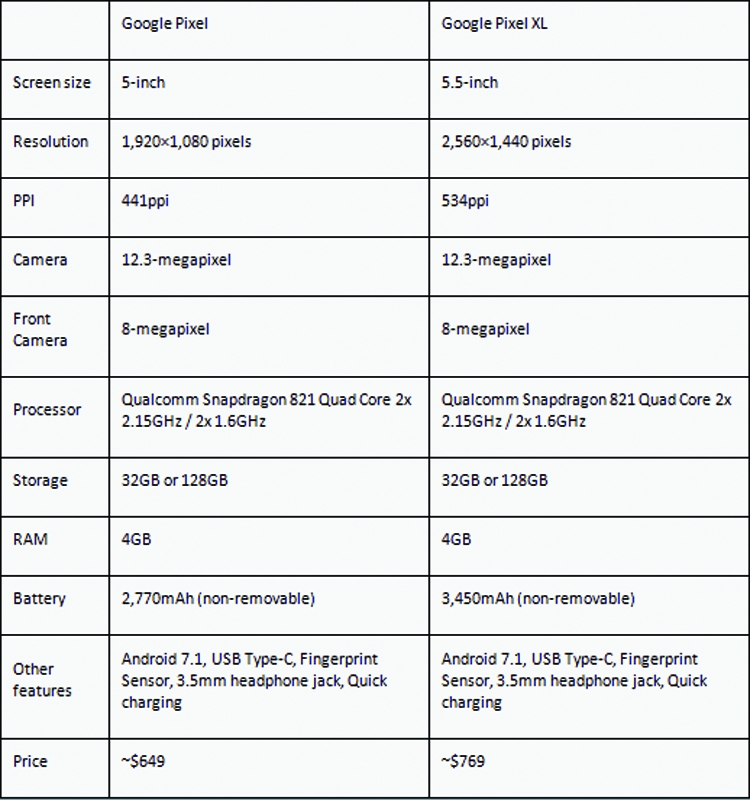 Making a decision
Other than the price, screen resolution and screen size, the Pixel and Pixel XL have much less same features. So which handset attracts you more? If you are conscious about the size of the screen, the bigger handset will obviously be the better option. But if size is not what means much to you, go for the regular Pixel. Budget buyers can also pick the regular Smartphone by Google and save some bucks. It has all the best that the smartphones of today have to offer and of course the big brand name of Google!
Source: Google
---