Chrome for Android now has a variety of new features
Fariha Khan

September 28, 2016

371
Chrome for Android will now include download feature to save pages, video, and more. It will also suggest articles.
YouTube Go has been successfully launched and now it's time to experience a range of new features introduced by Chrome for Android. These include various new automatic data saving features. At the moment, the Data Saver tool works with videos, being more proficient with web pages. Allowing you to save sites, photos, music and videos that can be viewed offline, a new version of Downloads manager helps you enjoy all these advanced features. The earlier seen suggested articles feature is live now.
Huge data saving
For the first time, the Data Saver tool works with videos. It allows MP4 videos that are watched through Chrome to use about 67% less data. According to Google, in India alone it saves 138 TB of data on video just in a week. Data Saver will automatically optimize HTTP sites to their basic requisites on slower connections with 90% in data saving and 2 times faster load.
Read also: Allo is now available on Android and iOS with tons of features

Chrome's now allows you to saves web pages, pictures, music and videos for offline viewing.
While a new manager helps you see all your saved items in a linear order, a new button in the overflow menu helps begin the download.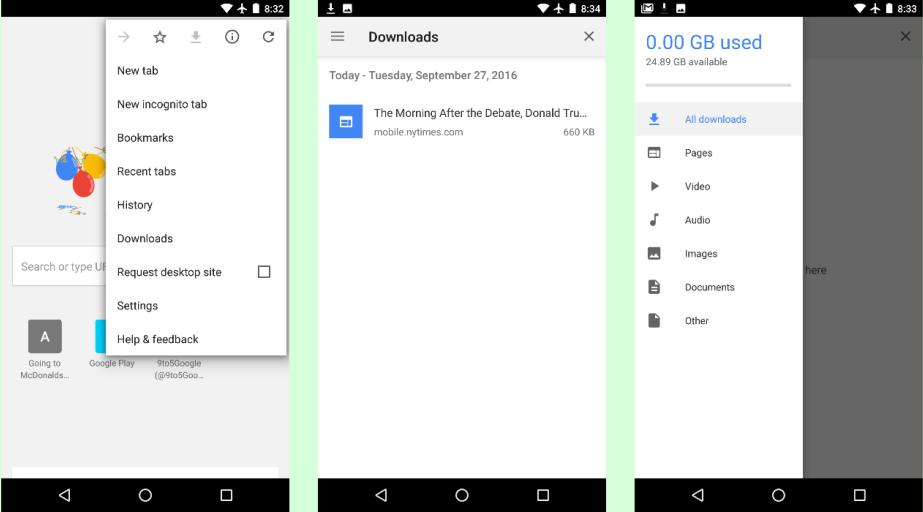 Source: 9to5Google
You can sort out the type of content by sliding from the left through a navigation drawer. It also you view used storage. In the address bar, pages that are saved will feature an offline tag and offline downloads will restart on their own if the connection is dropped.
Chrome's New Tabs Revamped
Chrome's New Tabs page is being overhauled. Now it will show more than simply the thumbnails of the sites that you have visited. It shows recently downloaded pages and the previously covered recommended articles feature is also included. As Chrome finds out the type of content you are interested in, the smart suggestions feature will improve.
All these great new features of Chrome for Android will improve the user experience.
---