7 Best Gaming Keyboards for UK
Fariha Khan

February 22, 2017

1,098
If you are a gamer, it is essential for you to pay as much attention to your keyboard as you do to the graphics card inside your custom-built PC. But if you have been bothered about this aspect of gaming before, it might be tough to know what the real difference between fancy gaming keyboards and a basic one is. In order to enjoy your gaming experience just as you deserve you ought to know that different keyboards have different features, but all gaming keyboards come with a battery of extra options and features that help to take your gaming experience to the next level. In this blog I am going to present the UK gamers with some of the best gaming keyboard options out there.
Read Also: What is Google A.I. Duet?
1. G.Skill RipJaws KM780 RGB Mechanical Gaming Keyboard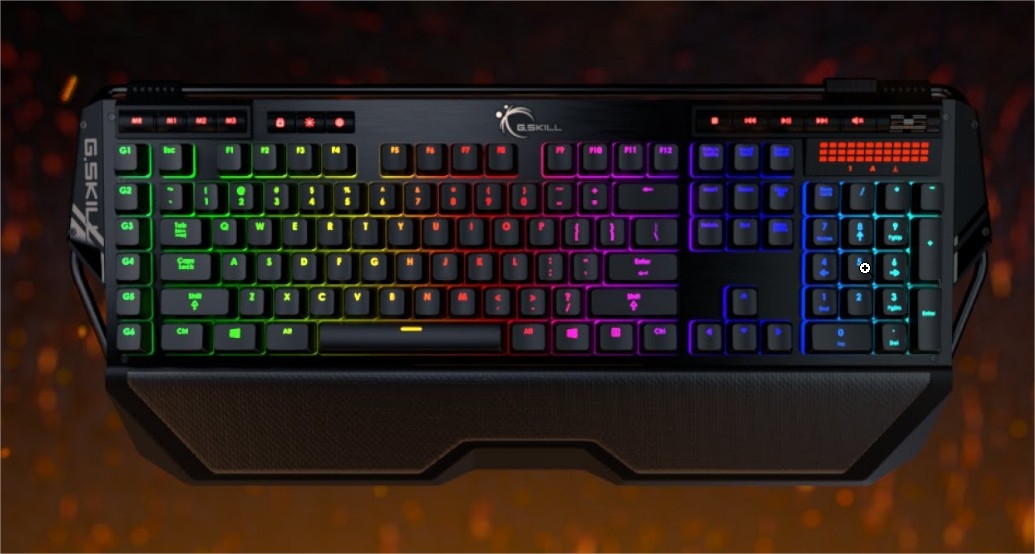 This one is a fully customisable RGB mechanical keyboard with RGB Cherry MX switches. What makes this keyboard truly outstanding is its versatility. It is available in the Cherry MX Brown (tactile), MX Red (soft) and MX Blue (clicky) variants. However, in case you are not into RGB colours, you can buy the non-RGB variant. The German brand behind the switches guarantees 50 million keystrokes and together with the RGB lightning offers 16.8 million colours to choose from! It features NKRO and anti-ghosting as well which means that you can press and hold as many keys as you want since they'll all be registered. Inside the box you'll find a wrist rest, an additional 10 gaming keycaps as well as and a key puller. The software itself works perfectly enabling you to fully customise the keyboard with custom macros and keystrokes. The keyboard has an additional USB port and headphone/mic jacks allowing you to plug your flash drive or headset directly into the keyboard, rather than at the back of your computer.
2. Razer Ornata Chroma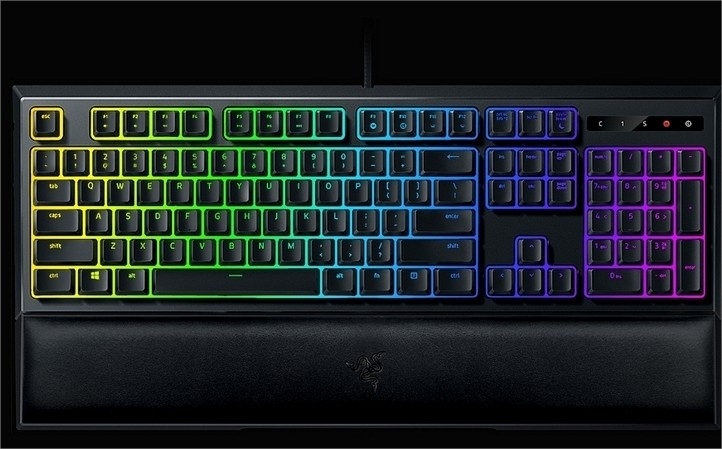 Recognized for its peripherals, a Razer keyboard is one of the best options you can get your hands on. One of the key features of the Chroma is Razer's all-new hybrid Mecha-Membrane that offers the soft cushioned feeling of a membrane dome with the tactile click of a mechanical keyboard. Combined with a mid-height keycap that lessens the time taken to register keypresses, with this keyboard your fingers fly across the keyboard, never missing a click. But it's not only the Mecha-Membrane that gives the comfort, as the Ornata Chroma comes with an ergonomic soft leather wrist rest as well. It means that you don't have to hover your hands above the keyboard, or rest your wrists on the desk and stretch to reach keys out of reach. With the wrist rest your hands are always positioned to reach all keys on the keyboard within no time and that too without the feeling of tiredness. The Ornata Chroma supports 16.8 million customisable colour options. It comes with other features that'll increase your gaming experience. That includes a gaming mode that'll stop you leaving to your desktop by deactivating the Windows key, and can be expanded to Alt+Tab and Alt+F4 too.
3. HyperX Alloy

A mechanical keyboard aimed at FPS gamers, HyperX Alloy makes use of Cherry MX Blue switches, which are light when pressed and require 50 cN of force to activate only. The Cherry MX Blue switches make the keyboard quite loud. Its front-panel metal body enables you to bash keys on your HyperX Alloy without fearing about any keyboard flex. Its build quality is really a stand-out feature. It has red blacklit keys as well that can be customised via FN+Arrow keys. You don't need any software. This gaming keyboard has a few additional features as well that you will love. It has a soft carrying pouch, extra 1234 & WASD key caps, where the WASD keys have a diverse texture also, a key puller as well as a removable braided USB cable perfect for moving. Lastly, HyperX Alloy has media keys that can be accessed by using FN and one of the F6-122 keys. FN+F12 enables game mode, disabling the Windows key.
4. SteelSeries Apex M800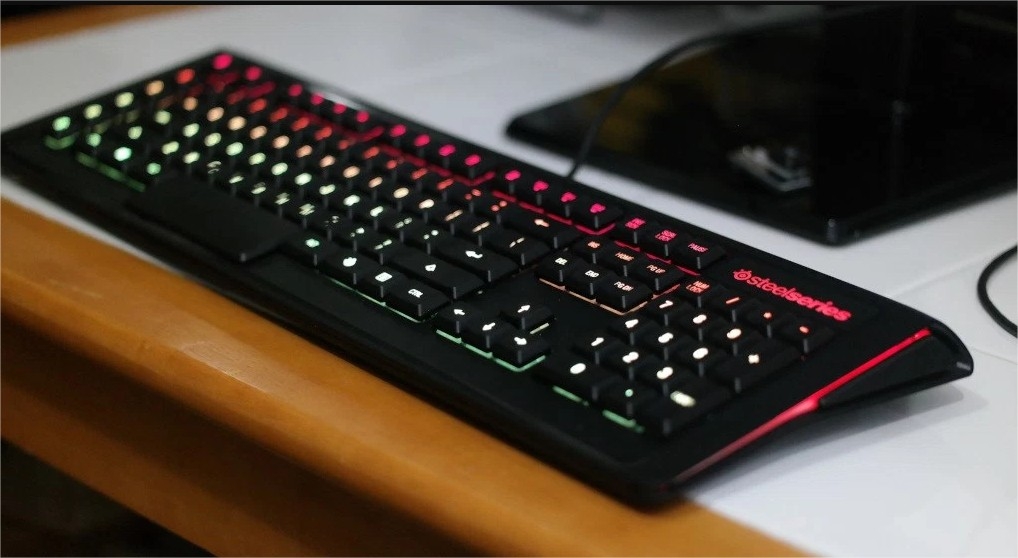 The SteelSeries Apex M800 is a gaming keyboard with a low profile design, which is based lightly on the design of the original Apex gaming keyboard. It's been built at an ergonomic low angle for additional comfort, and the linear key layout cuts down on finger travel. So you can reach the keys you need, when you need them, speeding up your reaction times. But it isn't the ergonomic design that pleases us most about the M800 – it's the illumination it extends. It doesn't just have standard keyboard backlighting similar to Apple's Mac laptops, in fact it has individual key illumination in a choice of 16.8 million colours. This means that you can design your own custom lighting schemes for a range of games. The M800 has with a number of pre-set light effects including Breathe, Colour Wave, Cooldown Timers and Reactive Keys. This gaming keyboard also packs some serious technology that'll give any gamer the edge he/she needs. It has dual processors, with one CPU dedicated to key presses. The M800 can handle up to 256 keys to be pressed at once with no issue. This wonderful keyboard boasts switch technology particularly designed for this keyboard. SteelSeries paired up with experts in switch technology to create the QS1 switch. The value-added QS1 switch offers a smooth linear action in addition to faster actuation than standard mechanical switches.
5. Asus ROG Claymore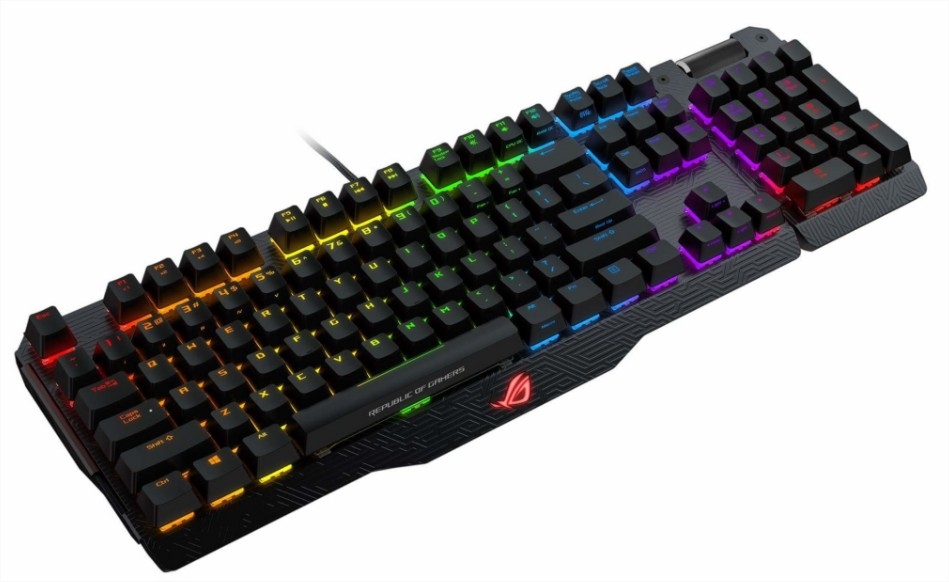 The latest addition to Asus's Republic of Gamers line, this gaming keyboard offers RGB lighting, Cherry MX RGB switches, and a detachable numpad. Not only can you detach the numpad for a more squeezed keyboard, you can attach it to the side of the main board as well. So you can have it numpad-less for travel, attach the numpad to the right side for work, or place it on the left for faster access to macros and the like during games. The keyboard features RGB lighting with a number of different effects, customisable down to every single key. The Aura Sync feature allows you to synchronise the lighting effects with your other Asus peripherals. The Claymore is a very solid keyboard for gaming. The numpad does feel a little loose when it's connected, but as long as you don't plan to move the keyboard around too much it will be fine. The keyboard has Cherry MX RGB switches, and is available in Red, Blue, Brown, or Black. The spacing of keys is comfortable so it won't take long for you to get used to it. But it does not have wrist rest.
6. Corsair K70 RGB Mechanical Keyboard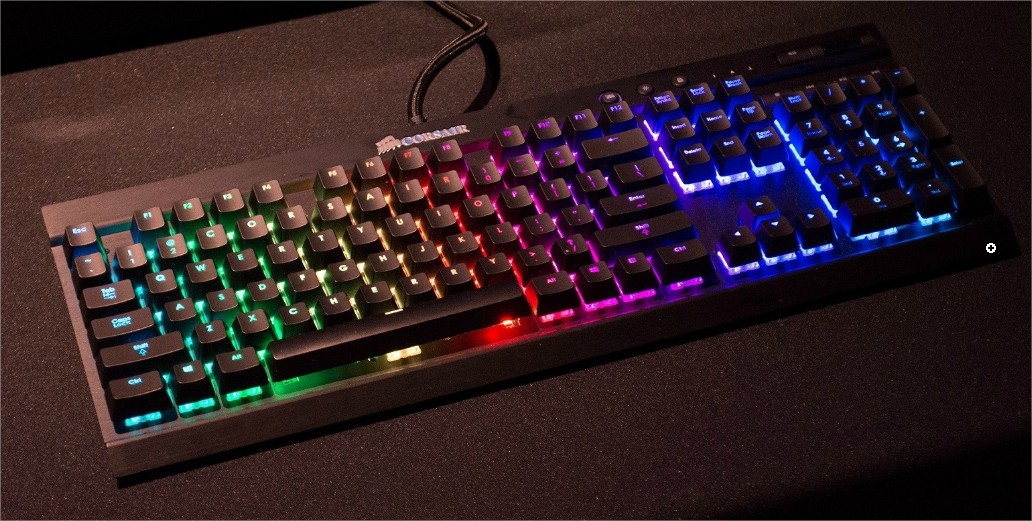 A lovely piece of kit, this is made from aircraft-grade brushed aluminium. The device is light as well as sturdy as well. The design itself is simple and square but that is perfectly fine. It comes prepackaged with a detachable soft-touch wrist rest as well. When you switch it on it looks even better. Backlighting is one of the most outstanding features of this gaming keyboard boasting 16.8 million colours per key and virtually limitless combinations. Corsair's cross-device software enables you to build an infinite range of pulse, ripple and wave effects in vibrant rainbow colours, in addition to colour-coding specific keys. In addition, you assign timers to the lighting as well. While macros and timers are supported within the software and can be bound to any button, this keyboard no dedicated macro keys, forcing you to reassign any macros you build to a current key. Instead of assigning music and video controls to the function keys like most other keyboards, Corsair gives them special little buttons all their own. You also get a special volume roller. The two USB ports required to run the keyboard is something that you may not appreciate. But we do understand why it's there, given the intensiveness of the backlighting, yet it's bit awkward.
7. Roccat Ryos MK Layout Mechanical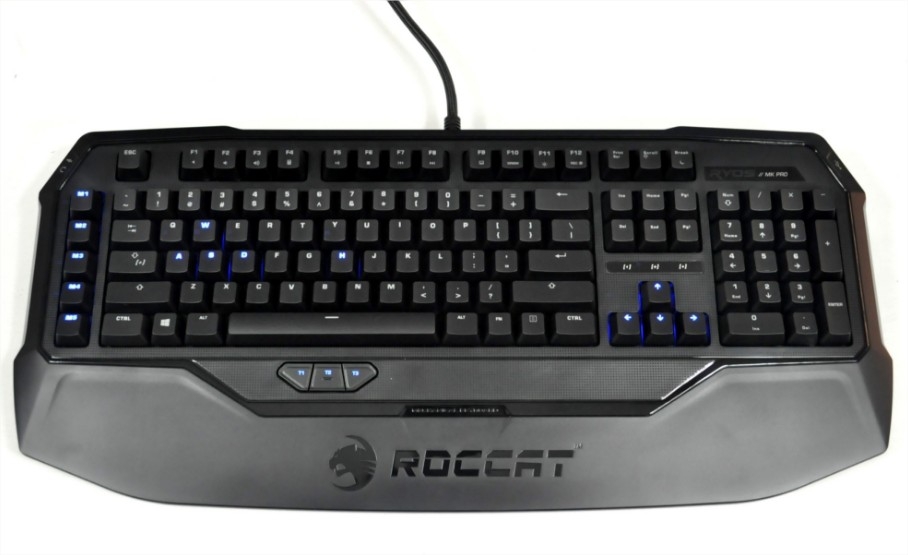 This keyboard is huge, mainly due to the built-in wrist rest. While it's quite ergonomically comfortable, it increases the size of an already-bulky device. It feels oddly hollow and flimsy as well, a side-effect of which is that the sound of the Cherry MX black switches is amplified by the echoey body to old-school typewriter levels of clackyness. A common feature of gaming keyboards is having multimedia controls bound to the function keys. For gaming, there's the standard set of multiple profiles and the power to switch between them. It has a column of 5 macro keys on the left of the keyboard and thumb modifiers below the spacebar as well. But it has 3 thumb keys rather than 7. Roccat's EasyShift[+] technology enables you to allocate a second function to every key, accessed by holding down what would be the capslock button otherwise. The Roccat Ryos MK is a decent keyboard as long as you don't mind the lack of backlighting and the prospect sounding like a 1950s typist.
---