Winzip it up
Here is a software which has really lasted the test of time. Download Winzip or the Winzip standalone and see why it is so popular. Not many programs can claim that. But this is one which people never tire of. And Winzip is not afraid of change. Its new version is modern and relative to today's work requirements. When you download Winzip, you will be pleasantly surprised at the fresh interface which is reminiscent of an Office style layout making it easier to use. Get the offline Winzip version by downloading the Winzip standalone and see how much functionality it comes with. It not only zips files. It also plays a prominent role in cloud computing, social networks, Windows 8, mobile devices and graphics hardware acceleration.
Get to work
The user interface is familiar and easy to navigate. You also have the option to apply a theme of your preference to make things more comfortable. Right on the top you have easy access buttons to get where you want to go, fast. There is one to creat a zip file, another to open a zip file and surprisingly enough, there is a cloud button which sends files to WinZip's ZipSend online storage service. A clever little option which makes a world of difference. Winzip puts you in full control and allows you to tailor the context menus in accordance to your requirements.
Another great option and a good reason to download Winzip is that you can create PDF files. This can be extremely handy keeping all functionality on one program. Taking into account the social media craze, Winzip accommodates that need to. The Share option allows you to create a zip download on popular social media platforms such as Facebook, LinkedIn, or Twitter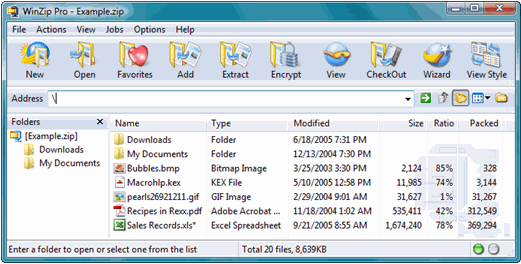 A strong tool
Overall, Winzip will not let you down. The offline Winzip version is available for your own convenience as well. It is a software which is tuned in with today's functional good reasons to download Winzip or the standalone Winzip. So get it and get to work!