Have you ever faced difficulty in comparing various text files and to find out about the changes that have been made? If yes, you don't have to worry more. Because with the innovations made in the field of software engineering, it is not so difficult now. Free WinMerge is an example of such a tool that can help in determining the data similarity and merging of text-like files. It is a free software tool that is used by many people for data comparison and merging of texts. It also helps to find out about the changes that have been made and then merging the changes, if required.
Free WinMerge is good for Windows platform users:
It is suitable for Microsoft Windows and is able to perform function without any problem. It is designed in a way to suit your system and without creating any difficulty, it will be able to give you the required results with better efficiency.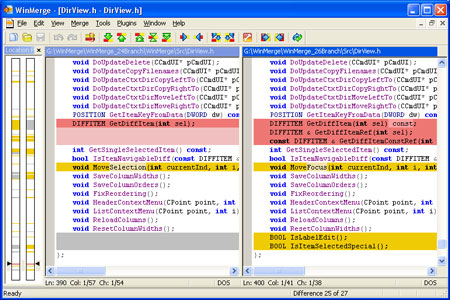 So download WinMerge now as it provides you with various features like:
It gives you the visual difference and merging of text files.
It also has the editor that is flexible to work.
The editor highlights the mistakes in syntax, line numbers and word-wrap.
It handles DOS, Unix, and Mac text.
Free WinMerge also has a Unicode support system.
It shows the current difference in two vertical panes with the help of difference pane.
Location pane shows that location of files compared.
Download WinMerge as it can also generate HTML report with the differences highlighted.
It also has the ability to ignore whitespace and letter case changes.
It creates patch files.
Download WinMerge as it also provides shell integration (supports 64-bit Windows versions).
Plug-ins.
So it can be seen that with these feature of free WinMerge, users can compare the text files in the best ways possible without much effort. You just have to select the files and you are done. So download WinMerge now from our web site and get the desired result within no time with better speed and far more reliability.