Softerra LDAP Administrator:
Free Softerra LDAP browser/administrator is a strong directory management tool which provides software for directory browsing, analyzing, managing, editing and import/exporting. It allows the user to access and modify the data without the hassle of command line utilities yet providing entire benefits and strength of a windows GUI.
It provides the following three software for browsing and management of directories:
LDAP Browser (for viewing and analyzing data).
Adaxes (for managing and monitor directory).
Argonne's LDAP (Java based editor and browser).
Free Softerra LDAP Browser:
Free to download Softerra LDAP browser is easily available in the market. It helps to access the LDAP directory data. After browsing it one can examine it too. It also provides directory report which is helpful in getting particular information regarding the directory arrangement and material.
To view and analyze LDAP directories, free Softerra LDAP browser is the top leading software. It follows a simple yet powerful structure. It is also efficient in providing handy browsing of the directory data. It scored high rank among other such software for last 10 years.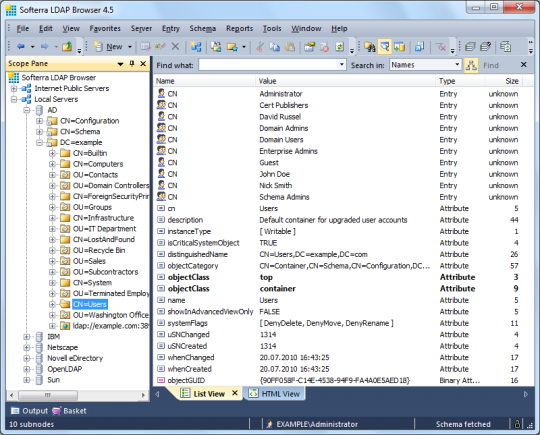 Features
Download Softerra LDAP browser as it provides you with the following efficient features:
It provides broad searching in the directory.
Viewing the directory has been made for efficient, easy yet advanced.
The directory reports can be customized.
Users may ask questions which are directly communicated to the data base.
Users can export data from the directory to other compatible software i.e. Excel, HTML, Plain Text, LDIF, CSV and DSML.
HTML views can be customized according the user's demand
It also provides schema viewer.
It is authenticated by SASL and SSL.
It can be used commercially as well.
User may apply various filters while browsing the directory.
It also provides navigation history for the ease of the users.
So do download softerra LDAP browser as it is easy to user and effective enough to carry out your tasks.