Free MYDownloader is an easily manageable and highly reliable download manager that lets you download files from web servers to your laptop. It is written in C language. As the name suggests this downloading manager helps you to organize your downloaded files and store them in one place for later use. It manages many downloads simultaneously and supports FTP, HTTP and YouTube videos downloading. It also supports videos from Google videos, Meta cafe, putfile etc. It can also convert your downloaded videos to AVI, MP3 and MPEG.
Why should I download MyDownloader?
It is available in multi-languages such as Dutch, French, German, English, Polish, and Norwegian etc. The additional Mirror feature now let your PC download file not just from HTML but also from FTP. This means your file can have more than one source of downloading. The Spider Web feature of the free MyDownloader checks whether it is an HTML file and if it is, then it digs for further HTML links in any form such as hyperlinks, images etc. available and creates a reference link to the downloading list.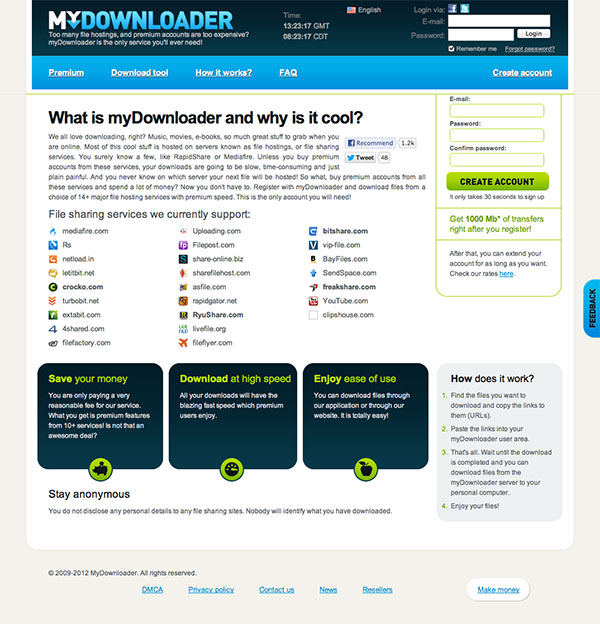 Free MyDonwloader Features:
The free MyDownloader also provide a plug-in architecture feature that can change the behaviour of any application. It lines multiple downloads in a row and easily lines one download after another. It also has a visible download bar that can make it easier for the user to check the progress in terms of bytes downloading and speed of the internet of any downloading. It also limits the number of programs being downloaded simultaneously. So do download MyDownloader as it also allows you to set a certain time for downloading. You can also select files from within ZIP and download easily.
What else can I do with Free MyDownloader?
Download MyDownloader as the drag and drop feature in it helps to easily open files within this program. Also, you can easily pause and resume your downloads with this software easily. When one of your downloads finishes, the next one begins automatically. You can also download a file protected by some proxy server or firewall due to a new feature of proxy support too.
So do download MyDownloader as it can really help you out in doing your tasks properly and in an efficient manner.