The free InFlow inventory is known well as a software program for inventory management that is utilized by both small and moderate-sized businesses to keep a record of inventory, fulfill customer orders, manage stock, build invoices, create purchase orders and generate customized reports. Unlike any other novel inventory software, Free InFlow system is better called as a self-support system, a system that can help you manage your inventory in the bests of manners.
History:
The free InFlow inventory system was brought to light in 2007 and since then has created a customer base, thus, all in all an extremely popular software amongst users and claimed by the company as "the world's most loved and downloaded inventory software."
Note: Before you Download InFlow inventory system, make sure the source is trusted.
The beginning of InFlow is a known one: Archon Systems, i.e. a Toronto-based company beginning around in 2005, coming up with building custom inventory software for various business types. Within a short time period, the creators of inFlow i.e. Archon realized that customers would happily uptake the offer of a pre-packaged software that fulfills their newness and satisfy the basic use as all other available choices were comparatively costly, tough to get along with and not that good. Keeping in view all the issues, inFlow successfully managed to make its place and satisfy its users.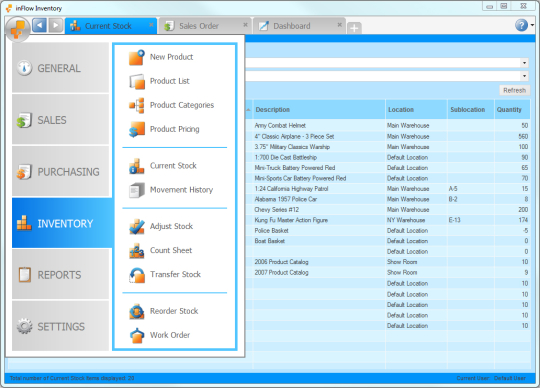 Why you should download InFlow inventory system?
As today's world is closely connected through business and work, the availability of online inventory software is not completely satisfying and directly explains why people prefer to download InFlow inventory. Besides handling all basic inventory stuff, it is easy to use without any potential threats.
At the current time, approximately 720,000 small businesses in around 120 countries use Free inFlow inventory system. It is widely utilized in a variety of industries and businesses, including yet not limited to retailers, wholesalers, manufacturers, e-commerce, health care, and government sector. The Twitter and Facebook accounts for inFlow are really active and have a pretty good number of followers and fans as well.
So if you are a business man and wants to keep in check of your inventory in the bests of manner, download InFlow inventory system, it can offer you the bests of method to manage your inventory and flourish your business.