Adobe Reader
Adobe Reader has established itself as an essential tool that no self-respecting professional or atypical user can do without. PDF documents are everywhere and make our lives a whole lot simple. There is no problem with different fonts, images and formats. You can just click and read. So with something so versatile, you need a platform you can rely on. In steps Adobe Reader. Taking into considerate Adobe created the PDF file format, its not hard to understand why they are the front runners. Although there are a lot of competitors, Adobe Reader is still revered as the last word on functionality.
Old is Gold
Although there are a few hiccups when you download Adobe Reader (lengthy download times, reboot, etc) it still offers high functionality. It boasts of a number of features which other competitors have not really caught up with yet. The interface is very simplistic and can be easily manipulated. Its tools are well attuned to the needs of the basic user to the avid technological geek. Another reason why everyone toots their horn about Adobe reader is because of its editing capabilities. Rotating and reordering pages is easier than many other PDF readers on the market. And when it comes to editing text or converting documents into their original format, it is child's play. Adobe Reader has taken technological trends into account and comes with an iPad version. Although it boasts less features, it still gets the job done efficiently and effectively without much left to complain.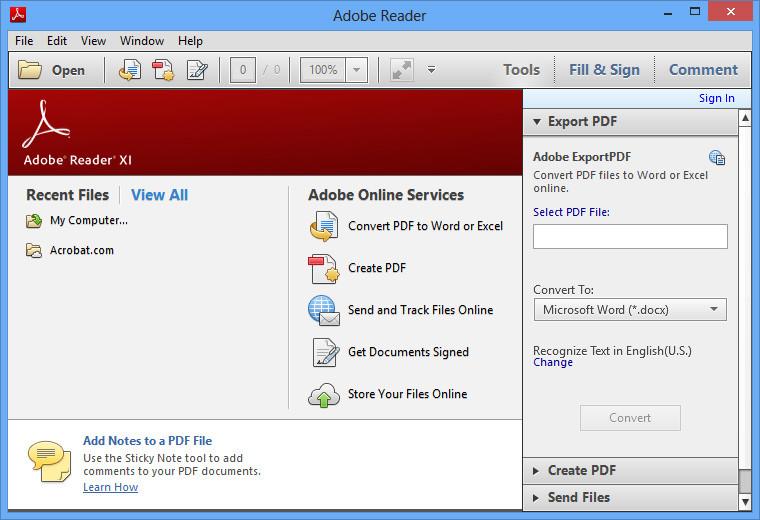 All is forgiven
One point of discontent would have to be the memory use. It is expensive – very expensive. At 35MB and operating memory of 26MB it can be a burden. But nonetheless, through sentimental reasons and clear functional advantage, Adobe Reader is still a prime winner in the industry and should not be overlooked. But having said that, you will not be disappointed when you download Adobe Reader. Especially the standalone Adobe Reader which gets you what you need quick.