Top E-book Readers for Android tablets
Qayyum

May 22, 2017

2,144
There are tons of e-book readers for android tablets that that make reading more exciting and easy. If you are a bookworm and you still have not converted to e-books, it is time that you do. While traditional books are great, e-books help you save space and also provide you with convenience of reading no matter where you are. You can carry them with ease and there are also chances that you may get to read some free books. Most eReaders enable you to read magazines and newspapers from the same app. It is possible to subscribe to your publication of your interest and have new issues pushed out to your device. They all help you sync with various devices and also allow you to start reading from the page where you left.
In this blog I am going to present you with some of the best e-book readers for android tablets. In case you have started a digital library already, you may want to stick with the app you started making use of while you can transfer most books into another reader other than the exception of Amazon Kindle.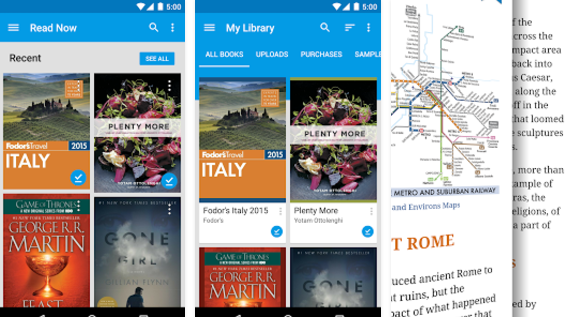 This is another great e-book reader for android tablets. Google Play Books was built into Android tablets, and is designed to be the Android answer to iBooks. It allows you to buy books via your Google Play account. You can download purchased books for offline reading as well. It allows you to use a handy widget which helps you use to flip through the books in your library.
Pros
There are various benefits that Google Play Books offers. Like purchases are fast and simple. There's no added account required as you need to have a Google Account to use your Android tablet. Books use standard ePUB and Adobe PDF formats. The app has a two-page layout when you hold your table horizontally. As for books that were scanned in from print libraries, it is possible to see the original book pages. Google Books also allow you to upload your purchased ePub books into your Google Play Books library.
Cons
Compatibility with Kindle is the major issue with Google Play Books. Your choice of eReader has to be driven by the content that is with you already.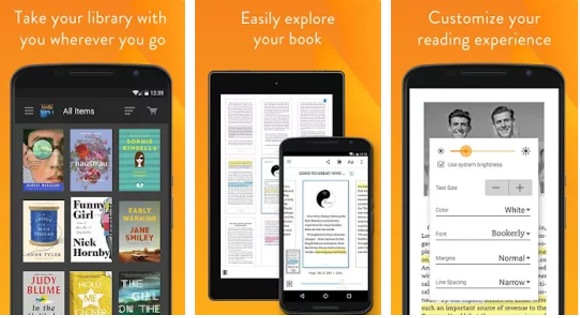 The Kindle is the most popular and best-selling eReader. The Kindle app for Android tablets allow you to read all your Kindle books and has a number of advantages. The app has a few things it could improve for usability like adding a two-page layout when you turn your tablet horizontally. However, still it is one of the best e-book apps out there.
Pros
Kindle is linked to your Amazon account that makes it very easy to complete bookstore purchases. It is also possible to books while browsing the Amazon website and have them pushed to your tablet. You can find fan sites set up for browsing and finding discount as well as cheap Kindle eBooks.
Cons
Kindle doesn't support the industry standard ePUB format at the moment. You may use apps such as Calibre in order to convert your content and sync with your tablet, but you actually should not. While Kindle advertises a lending feature, is rarely available if at all.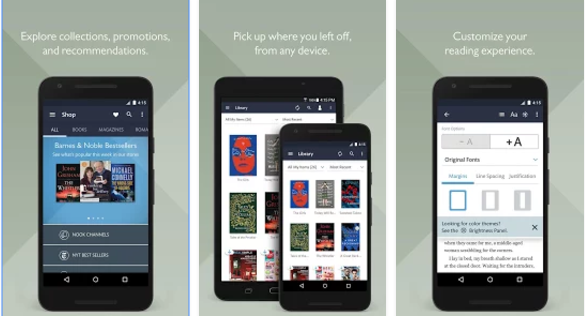 The Barnes & Noble Nook tablet uses Android. This app offers a great experience for reading. Recently, the Nook has also partnered with Samsung for a Nook/GalaxyTab combination outside an eBook reader. It shows a two-page layout when you turn the screen sideways. The app also enables you to sideload ePUB books you check out from your public library or get from other vendors. It's bit more hard as you need to copy the files to your My Documents folder yourself.
Pros
This ebook reader for android tablets offers two-page layout which is its major benefit. It is also possible to turn page-flipping animations off in case they slow down your device. With this app you can use a lending feature called LendMe in order to send a book to another user for couple of weeks.
Cons
The LendMe feature is only available once per book. Items you've sideloaded aren't visible in the default view. Furthermore, Barnes & Noble and the Nook, in general, have been unstable companies in recent years with a difficult transition away from as many brick and mortar stores. Unlike Borders, the company seems to have survived mostly intact, but that doesn't mean that there aren't more challenges on the horizon.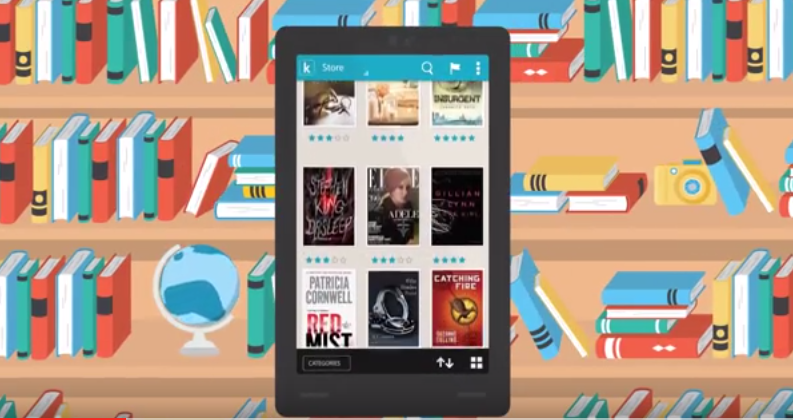 Kobo is basically linked to the Kobo online bookstore. It is another great e-book reader for android tablet that can help you make the most of your favorite books. It was first tied to Borders, but it is owned by Rakuten now. While their portable eReader may not be outstanding, the Android app is very fine.
Pros
This e-book reader offers the easiest method for importing ePUB content you've got elsewhere. You can start at the library view and then tap the Menu button. Tap Import Content and then tap Start. Kobo will search for ePUB books and you will be able to see a list of all new books that it will discover. You can use the checkbox in the list to include or exclude the books from import. Then tap Import Selected. This e-book reader features Reading Life as well, which shows you statistics on the books you're reading, such as how long you've been reading as well as the progress you've made.
Cons
Kobo doesn't have a two-page layout when you tilt the screen horizontally. That is why it can be little harder to scan the page.
---