Top 40 Tools for Freelancers – Part 1
Fariha

February 9, 2017

1,207
Freelancing makes a great option for those of you who wish to be their own boss. You can choose your own work hours, work from home or while on the go and do much more that can make your life easier, give you more flexibility and allow you to make more money than you can by doing a regular job. Here are some essential tools that can help you make the most of your work if you are a freelancer or planning to work as one.
1. Invoiced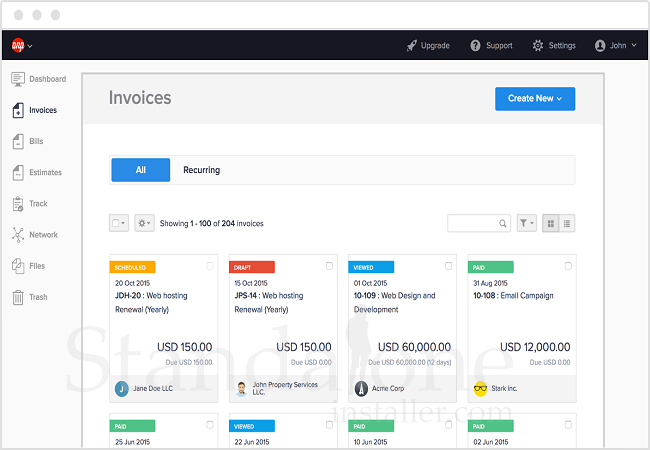 This tool gives you the power to work with any payment method you like. With the help of Invoiced it gets simple and easy to create and send invoices to your clients. The precise payment method is up to you – the tool integrates with Stripe so you can set up online payments through PayPal, credit card, Bitcoin, or even offline. The best thing about it is its ability to track your collections proficiency, how long it takes on average for you to get paid, and any repeated revenue on monthly basis.
Read Also: 10 Best Free Presentation Software
2. Harpoon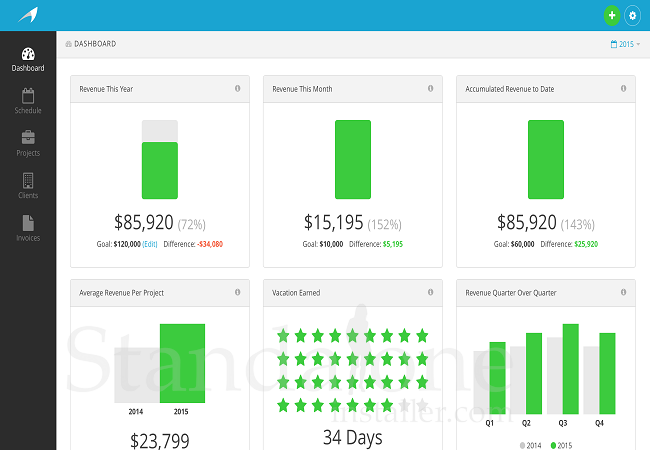 Harpoon is a powerful tool that allows you to create projects, from which you can track your time in addition to adding invoices and expenses. With the help of this tool you can make the process of your decision making smoother and thus plan in a more effective way. It allows you to glance at your average revenue per project or check your outstanding invoices in an easy way. It is not wrong to say that Harpoon is like an all-in-one tool, with smart reporting and dashboard features. However, there is a download of this tool as well: it lacks proposals and contracts.
3. RescueTime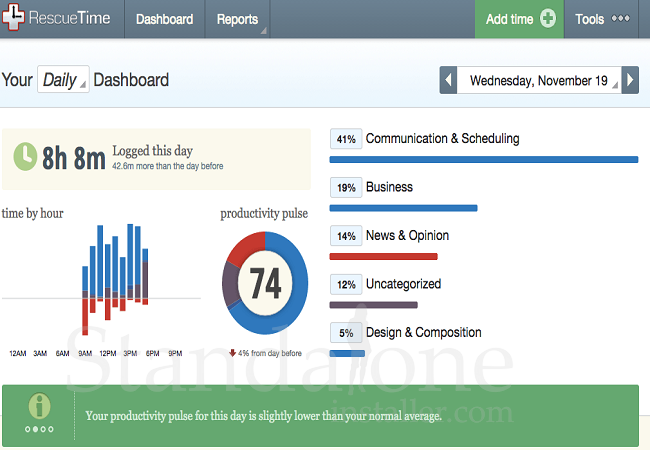 Another must have tool for those who wish to freelance in an effective way, RescueTime enables you to keep track of how you spend your time on your PC and allows you to analyze how this time was spent later. For example, in case you get to know that you spent more than 12 hours on Reddit last week, you will find out that you need to manage your time more smartly.
4. Nusii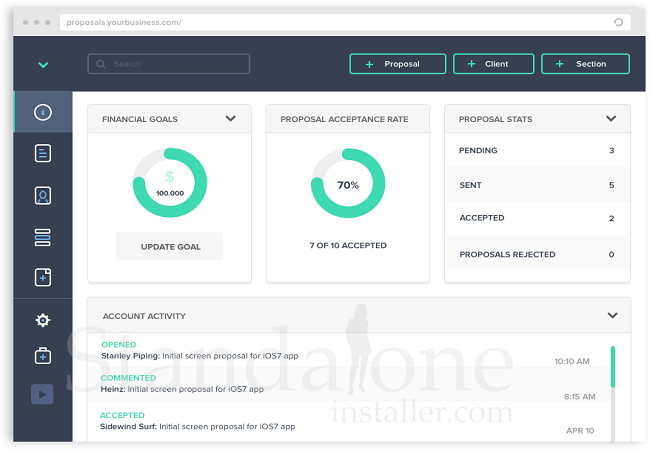 The proposal editing in this tool is attractive and simple, and once completed you can send it straight to the client. This tool not only enables you to create proposals, it provides you with the chance to glance over your sales revenue or proposal acceptance rate. Its 'send to client' experience is smooth, and you will get to know when a client sees a proposal. Its proposal-editing process is simple and attractive. But, visual customization is limited and you can't insert tables. One good thing is that the tool supports a range of currencies and languages, so you can make the most of it nearly anywhere.
5. Prospero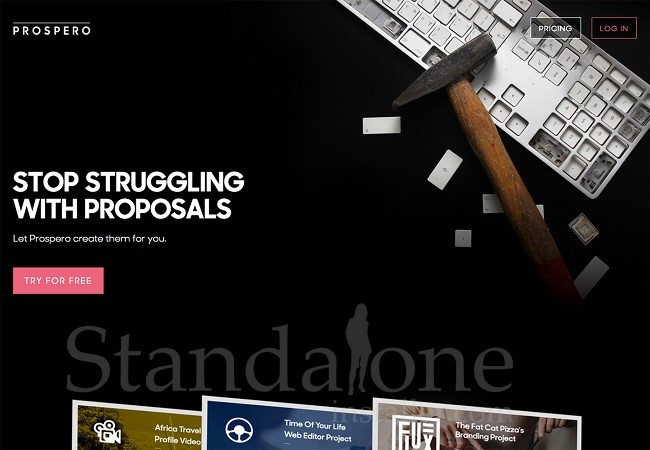 Prospero is a great tool for freelancers that helps to create a proposal and price it as well. There are no dashboards or even account settings; its strength lies in helping you create a proposal, rather than just letting you fly blind. When you create a proposal, the program asks you some short questions, like your rate, the time it will take you to complete the project etc. Based on your answers, it generates a proposal that you can edit. Once you finish the proposal you can download it as a PDF or send it to the client directly.
6. Momenteo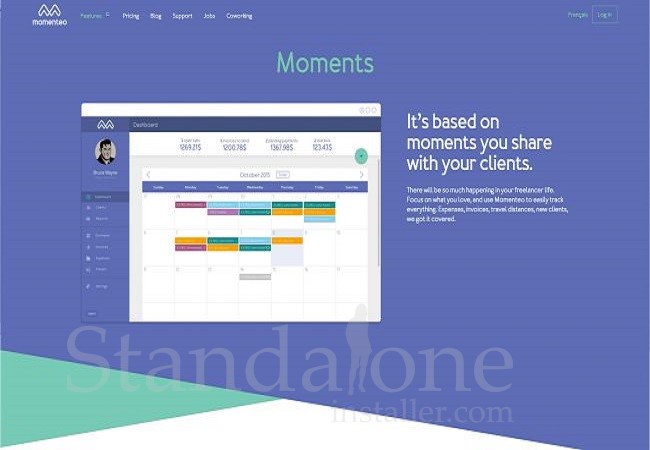 Momenteo is a great tool for freelancers who like to roam with a travel expense feature built in. It will turn approved estimates into invoices without any additional work as well. It has one pricing plan, monthly or annually. You can get your hands on all features and unlimited use of the tool.
7. Timely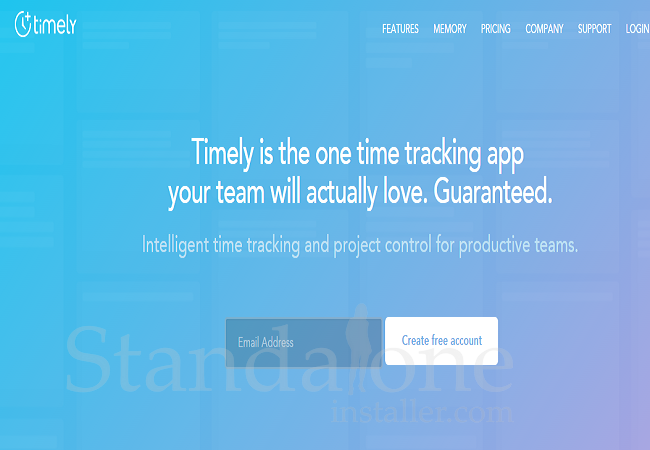 This is a time tracking software for those who wish to utilize their time in the best possible way. It greets you with a calendar view the first time you log in. it does not have any time in face the program motivates you to fill in the hours you worked on a particular project. Using Timely allows you to enter your planned and logged hours so you can see the difference in your estimations. It works in the cloud, or you can opt to access it from your browser.
8. Bonsai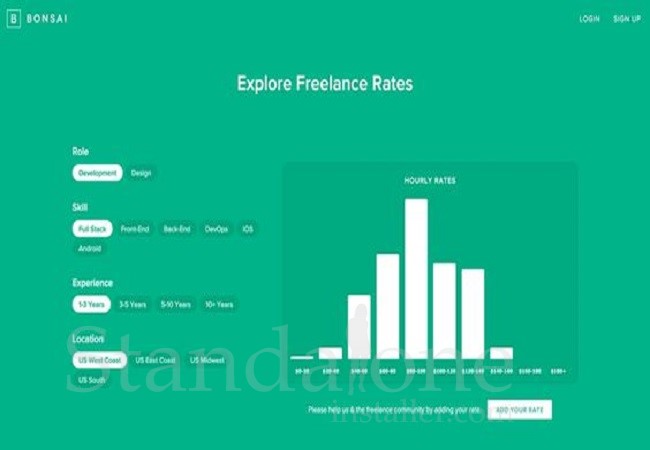 Bonsai helps to send contracts, collect payments and create invoices, through a seamless UX. It gives you the power to send contracts and collect payments. When creating a contract, it will ask you what type of work you're doing, to help it tailor the contract to your project. You'll be asked a few questions, including your basic info, project brief, rate, when you'd like to be paid and so on. The tool will then provide an editable contract on your behalf that you can send to the client straight from the tool. Once signed, Bonsai generates an invoice for you to issue. You can also set the invoices to be recurring – handy.
Read Also: 5 Best Free Video Repair tools to Fix Any Video
9. Zipbooks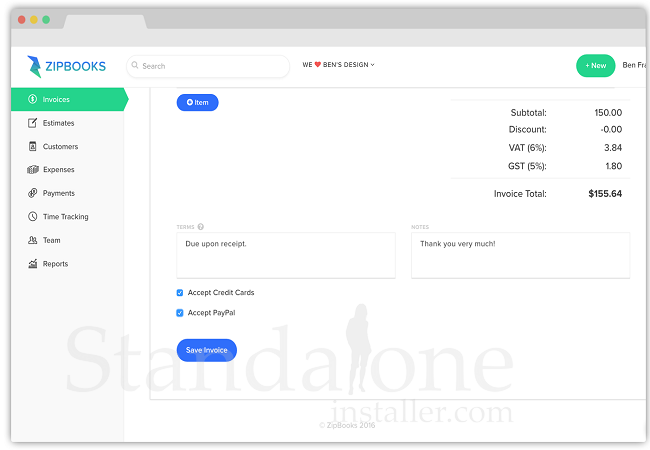 This free accounting tool allows you to track all your financial information. It is beautifully designed and easy to use as well. It can be used to create invoices, track your time, track your expenses, and more. You will like its dashboard that displays your billings versus collections, average collection period etc.
10. Legal
Not the most fun category, but definitely one of the most important. Contracts don't have to be as scary as they sound – they're good for you and your client. While these tools are helpful and often include templates, if you're unsure about the laws in your country I recommend consulting a professional.
11. Termsfeed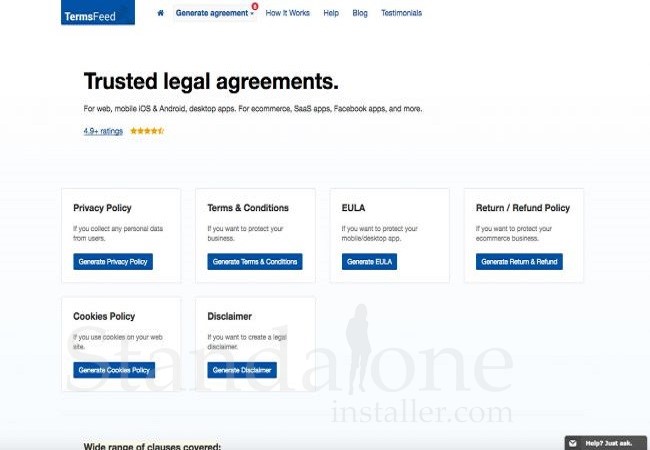 TermsFeed has a range of free terms templates for you to use. Selling products online? Chances are you're going to need some legal documentation, such as a returns policy. TermsFeed has a range of free terms templates for you to use, including Terms & Conditions, Privacy Policy, and Terms of Service. There's also a generator that asks you a range of questions and then builds a contract best suited to your use.
12. Shake Law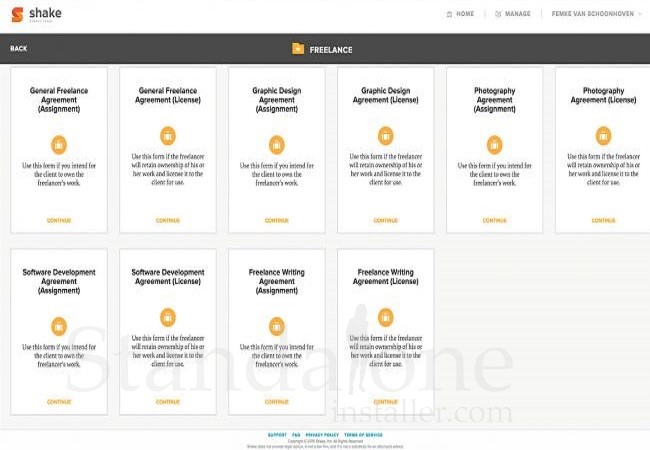 Shake Law is a basic contracting tool, which allows you to choose from a variety of contract templates. It enables you to opt for a contract template for an assignment-based or licensing project, which is quite interesting. After you create a contract, you can get it reviewed by a lawyer. The tool redirects you to a law firm, for which you have to pay extra charges. But you must know that the features of Shake Law are limited.
13. Just Tell Julie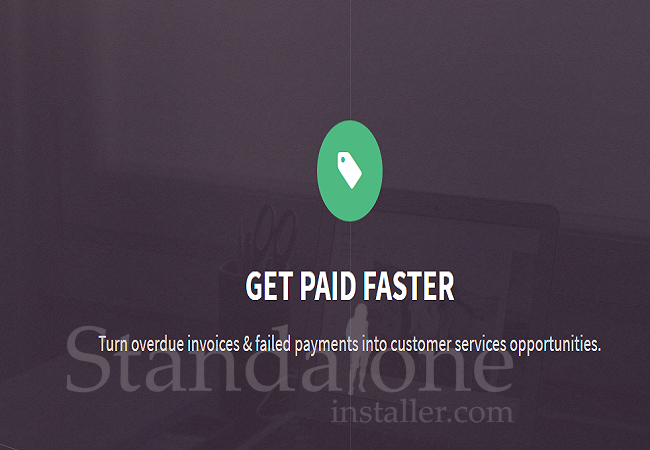 When you get stuck in a situation where a client is not paying your dues, you need to make the most of this tool. A highly recommended tool for freelancers, it offers to work as your accounts receivable virtual assistant in order to help retrieve absent payments. It works by calling your client on the phone and being 'thermonuclear nice'.
14. Wave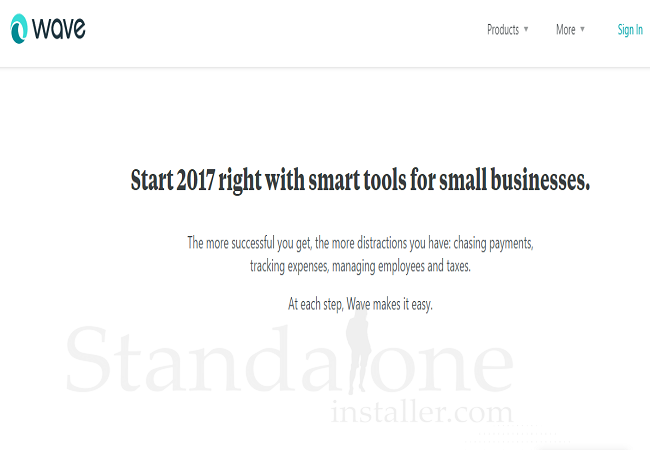 This tool contains all the bare bones of accounting software without the unnecessary extras. Wave is another popular, free option. This straightforward tool has all the bare bones you'd expect from accounting software, but without the unnecessary bells and whistles. Its invoice flow moves through visual steps, making it easy to keep track of where a project is up to in the payment process. A nice touch is that you can create free, unlimited invoices on the go via the iOS app. It's easy enough to send a receipt, set up a Stripe integration and connect your own bank account. Payroll features do exist, but are currently limited to the US and Canada only. You're probably going to want to invite your accountant in to take care of the reporting features, like balance sheets and income statements.
15. Toggl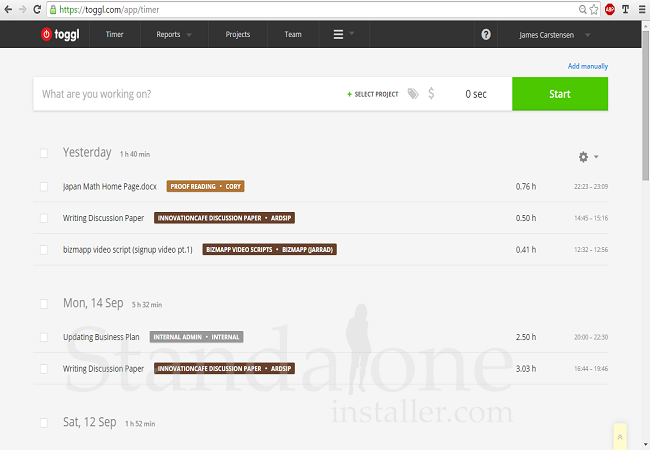 This tool allows you to track your time you spend on projects. In addition, it is also helpful to view summary reports. With the help of Toggle, you can create private and team-wide workspaces as well. It means you can manage your personal time.
16. Cushion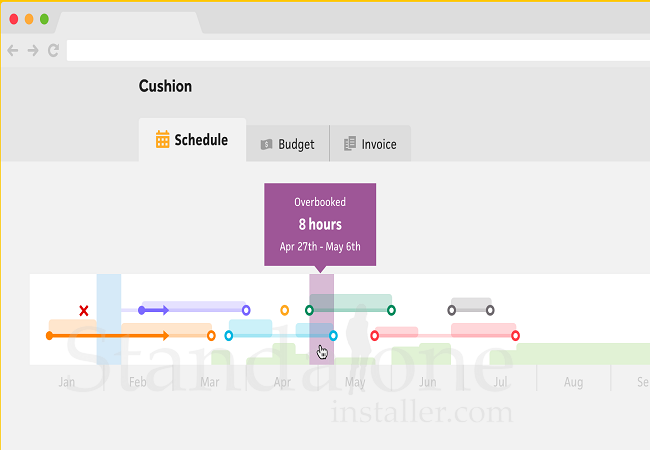 Those of you who are looking for time management tool must check out Cushion. This tool enables you schedule your hours for work and time off. Rather than tracking time, it helps you schedule your time – and not just at work. With the help of Cushion you can schedule time spent on projects in addition to time off. The tool also highlights when you've overbooked yourself, saving you from being burnt out.
17. Freelancy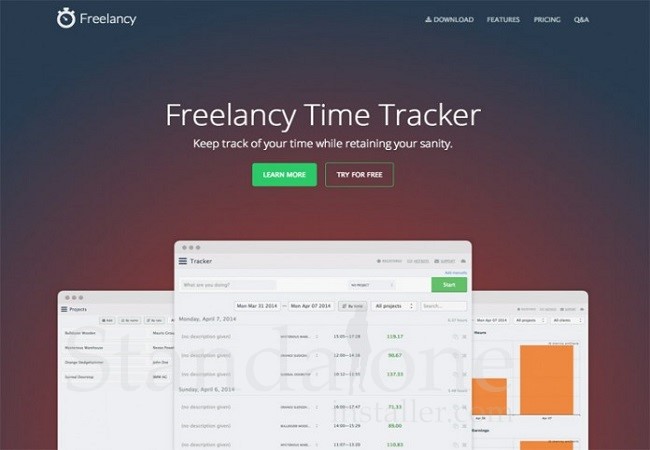 If you have trouble with numbers, here is tool that can help. Freelancy will turn your tracked time into invoices without involving any counting. The tool basically allows you to turn time tracked into invoices, fast and easy once the project completes. Its reporting feature offers a calendar overview of when you split your time. So you can see how much time you've spent and on which projects without any problem. While automatically creating invoices from your time tracked is useful, with this tool you can create invoices manually as well.
Read Also: 5 Best Cool PDF Reader
18. Azendoo
Another powerful tool for freelancers, Azendoo is basically a workflow tool which has a great design and user experience. It allows you to view analytics, attach documents, and group and organize your tasks into subjects as well. You can filter on tasks, see a calendar overview, set due dates and more. In addition, with the help of this tool you can broadcast messages, send direct messages to team members and view notifications too.
19. Flow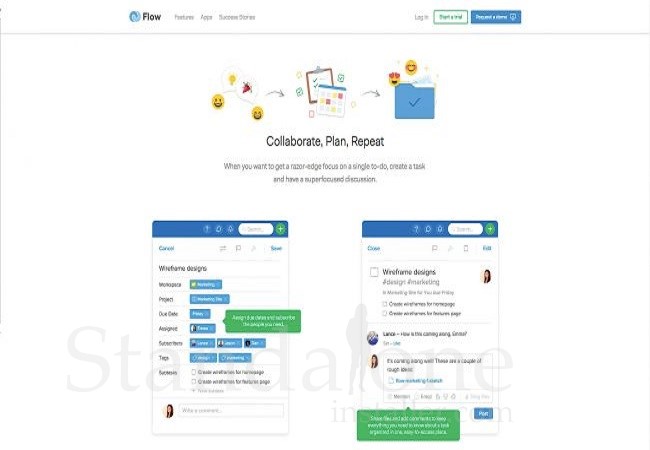 With Flow you can set up tasks to work on privately before sharing them with others. It basically helps you create workspaces and tasks so you can keep on top of your projects. You can collaborate with team members via task assignment and in-built chat. So with this tool for freelancers you can you create private tasks that you can share with your team members later. The calendar view gives you a good overview of what's coming up.
20. Atomic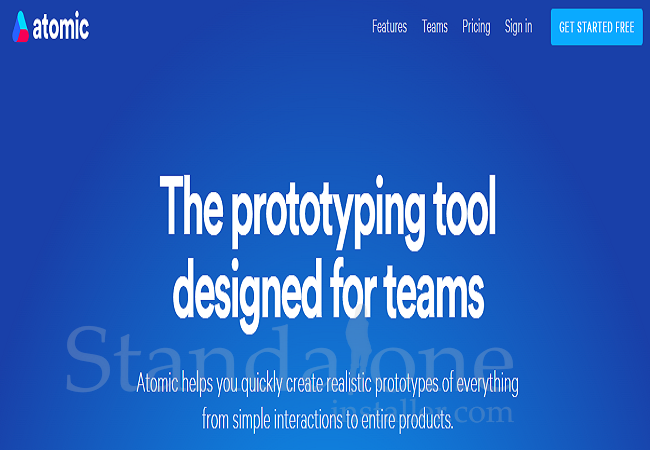 Atomic offers a fast way to build and share prototypes. It can help you create and share prototypes with your clients. You can import an existing design from Sketch or Photoshop, link the pages together and perfect the transitions to come up with your prototype. After you are done, you can easily share your prototype with clients using Atomic by sending them a link.
21. Hubstaff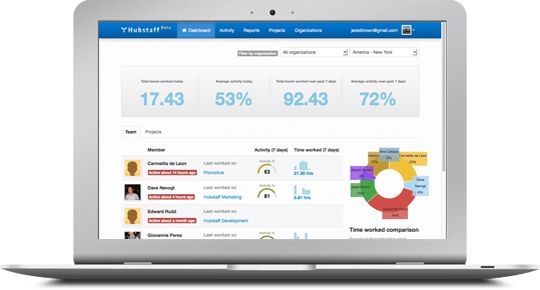 Hubstaff is a fantastic tool that gives you the power to keep an eye on your team no matter where you are. More than 8,000 remote teams benefit from Hubstaff on a regular basis. With the help of this online tool you can get to know when and what your team members are working on. Hubstaff time tracker works as software on your desktop or as a mobile app, allowing you to track time with ease anywhere anytime. Once the time is tracked it is possible to pay your employees, invoice clients, view in-depth reporting and do a lot more. Hubstaff offers very simple yet highly effective time tracking software for Windows, Mac, Linux, Chromebook, iOS, and Android. It's mobile apps allows you to track time working or driving and provides fleet or employee location tracking through GPS. The website monitoring software lets you find out the internet usage of your employees whenever they are working and tracking time. With the help of the data you can learn how the most productive team members spend their time, and where the less productive ones are wasting it. Hubstaff's app monitoring software enables you to see which programs your workers run when using the work time tracker. You'll know whenever they switch to a different program, and how long they use the program.
Continue to part 2
---